Skip to product information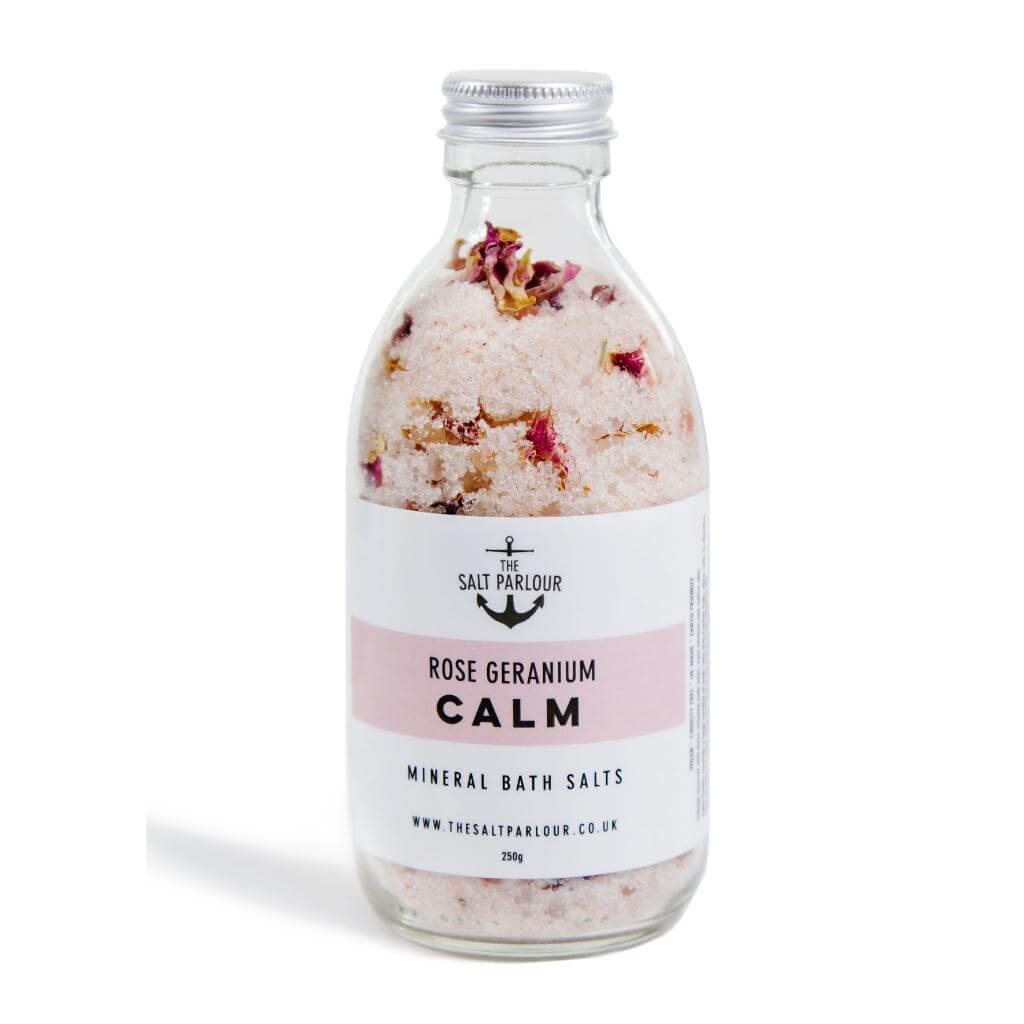 Rose Geranium Mineral Bath Salts
Sale price
£10.99
Regular price
£12.50
Tax included.
This luxurious Himalayan Bath Salt blend combines with gentle notes from the Rose Geranium Essential Oil and Organic Rose Petals to help you relax and unwind. Let the Epsom Salts and Organic Sulphur mix soften your skin and revive your body.
Made with Pink Himalayan Salt, renowned for its restoring effects and being free of modern-day pollutants – filled with magnesium, potassium and calcium. 
Size: 250g
Benefits
Rose Geranium Essential Oil aids relaxation, reduces inflammation and has anti-ageing properties.

Soothing, relaxing with the scent of rose.

Vegan.

Cruelty-Free and 100% Natural.

Handmade.

Fully Recyclable glass bottle with aluminium cap.
Ingredients
Pink Himalayan Salt (Sodium Chloride), Epsom Salts (Magnesium Sulfate), Organic Sulphur (Methylsulfonylmethane), Organic Rose Petals (Rosa Centifolia), Vitamin E (Tocopherol), Rose Geranium Essential Oil (Pelargonium Graveolens) 
How to Use
Rinse off in the shower to remove any dirt, oils, and cosmetic products from your body.

Fill the bath tub with water that's very warm but not hot.

Following package instructions, add a little Salt Parlour - Rose Geranium Mineral Balt Salt to the bathwater.

Salt baths may feel dehydrating to some people. Keep a glass of cool water nearby if you feel dehydrated during your bath.

Bathe for 10 to 30 minutes. Rinse off and dry.

Moisturise your skin afterwards.
Pregnancy: We recommend not using The Salt Parlour Bath Salts during pregnancy. This is due to the essential oils in the products. Please consult your doctor before purchasing if you decide to go ahead and order.