Skip to product information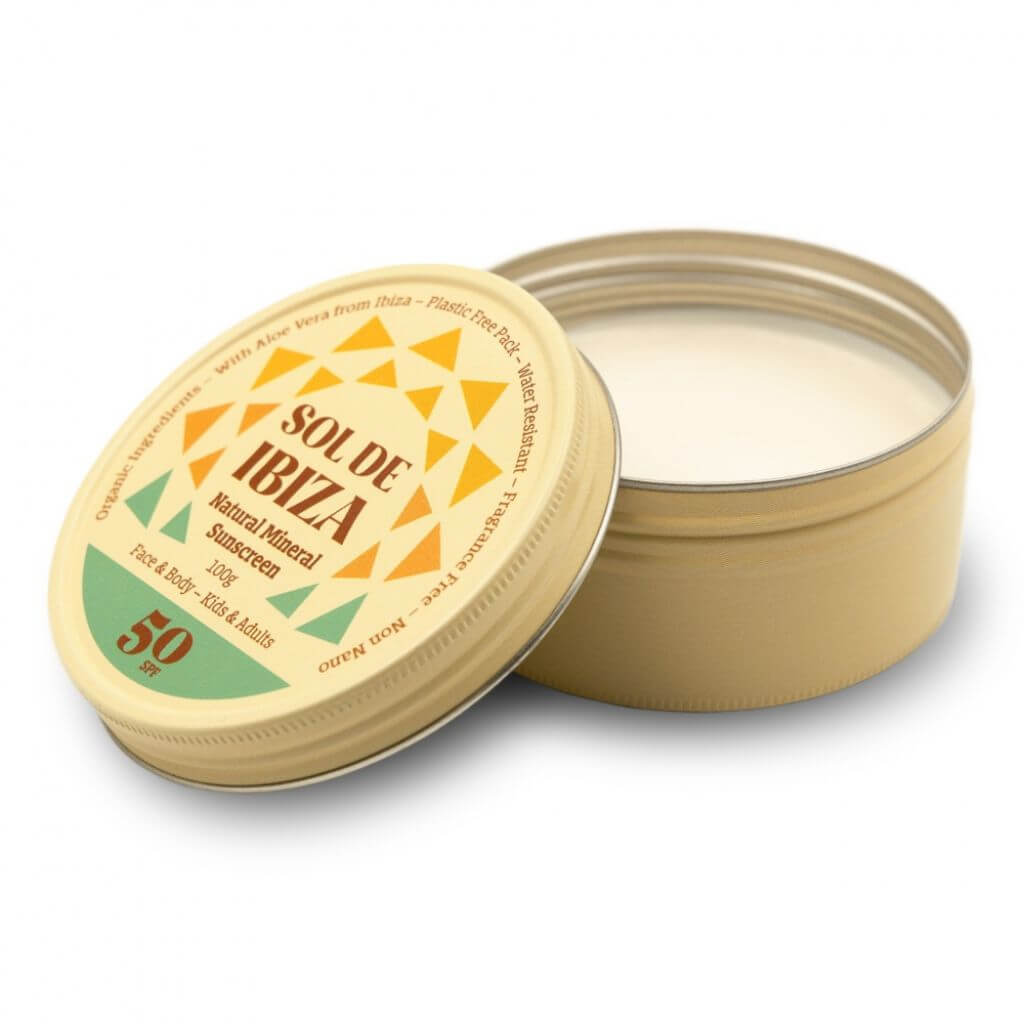 Sol de Ibiza Vegan Organic Natural Sunscreen SPF 50
Sale price
£24.99
Regular price
£0.00
Tax included.
Brand Shortlisted: 2022 - Cosmotrend Annual Report for Cosmoprof Exhibitors
Suitable for All Skin Types, including Sensitive Skin - Firmer Format
Protect yourself and your family with this waterless solid, organic, Iberian strength, SPF 50, vegan sunscreen that protects against UVA, UVB radiation, wind and pollution. Waterproof for up to 40 minutes and containing a unique transparent formula, it has no harmful chemicals, preservatives or fragrances. It is heavy metal-free, making it fantastic for sensitive skin or allergies.
It is sea and reef-safe with Non-Nano Zinc Oxide and made with natural and organic ingredients, such as coconut oil, sunflower seed oil, sweet almond oil, aloe vera and calendula. 
Perfect for Adults and Children and suitable for daily use on Face and Body.
Size: 100g
Benefits
Firmer Format

Safe for your skin. Sea-safe and reef-safe.

Broadspectrum UVA, UVB, Blue Light, Wind and Pollution.

Sustainable and ethically sourced.

All Skin Types and Suitable for daily use.

Made for the Mediterranean sun.

Vegan and Cruelty-Free.

100% Aluminium Tin, fully recyclable and reusable.
Ingredients
Caprylic/capric triglyceride, Cocos nucifera oil (*), Zinc oxide (20%), Silica, Euphorbia cerifera cera, Polyhydroxystearic acid, Tocopheryl acetate, Aloe barbadensis leaf juice (*), Helianthus annuus seed oil (*), Prunus amygdalus dulcis oil, Calendula officinalis flower extract (*), Oryzanol, Tocopherol, Ascorbyl palmitate, Lecithin, Citric acid.
(*) Ingredients coming from organic farming
Detailed Ingredients
ZINC OXIDE will protect your skin, absorbing UVA & UVB rays.
SWEET ALMOND OIL will nourish and hydrate your skin.
ALOE VERA is the ultimate natural moisturiser.
SUNFLOWER SEED OIL is antioxidant, anti-inflammatory and antibacterial.
COCONUT OIL is anti-inflammatory and protective.
CALENDULA is anti-inflammatory and soothing. Works well as a sunscreen enhancement.
SILICA is a naturally occurring mineral. They can be used to coat zinc particles so that they spread easily and evenly across the skin.
CANDELILLA WAX comes from a small desert shrub called Euphorbia cerifera. It softens and soothes the skin while at the same time helping to bind ingredients together in cosmetic formulations.
ORYZANOL rice ban oil extract is a mixture of lipids derived from rice, used for its antioxidant properties.
TOCOPHEROL is a form of vitamin E that comes from vegetable oils. It works as both an antioxidant and a skin conditioner. It also has anti-inflammatory properties.
CETYL PALMITATE is an ester used as both thickener and emollient (conditions the skin's surface). From 100% vegetable origin.
LECITHIN extracted from sunflower oil, Lecithin is a natural component of skin cell membranes. It helps skin hydration and elasticity.
CITRIC ACID is a natural antioxidant used to balance the pH of cosmetics.
CAPRYLIC TRIGLYCERIDES are produced by the esterification of glycerol (plant sugars) with mixtures of capric fatty acids from coconut oil. They give the skin a silky feel (rather than greasy), especially in waterless formulations.
How to Use
Allow a small amount to warm to skin temperature and then rub in. It starts working immediately.
Sol De Ibiza is water resistant, and re-application is only required after 40 minutes of swimming or sweating activities. 
It is recommended to frequently re-apply for children under 8 years old.