Skip to product information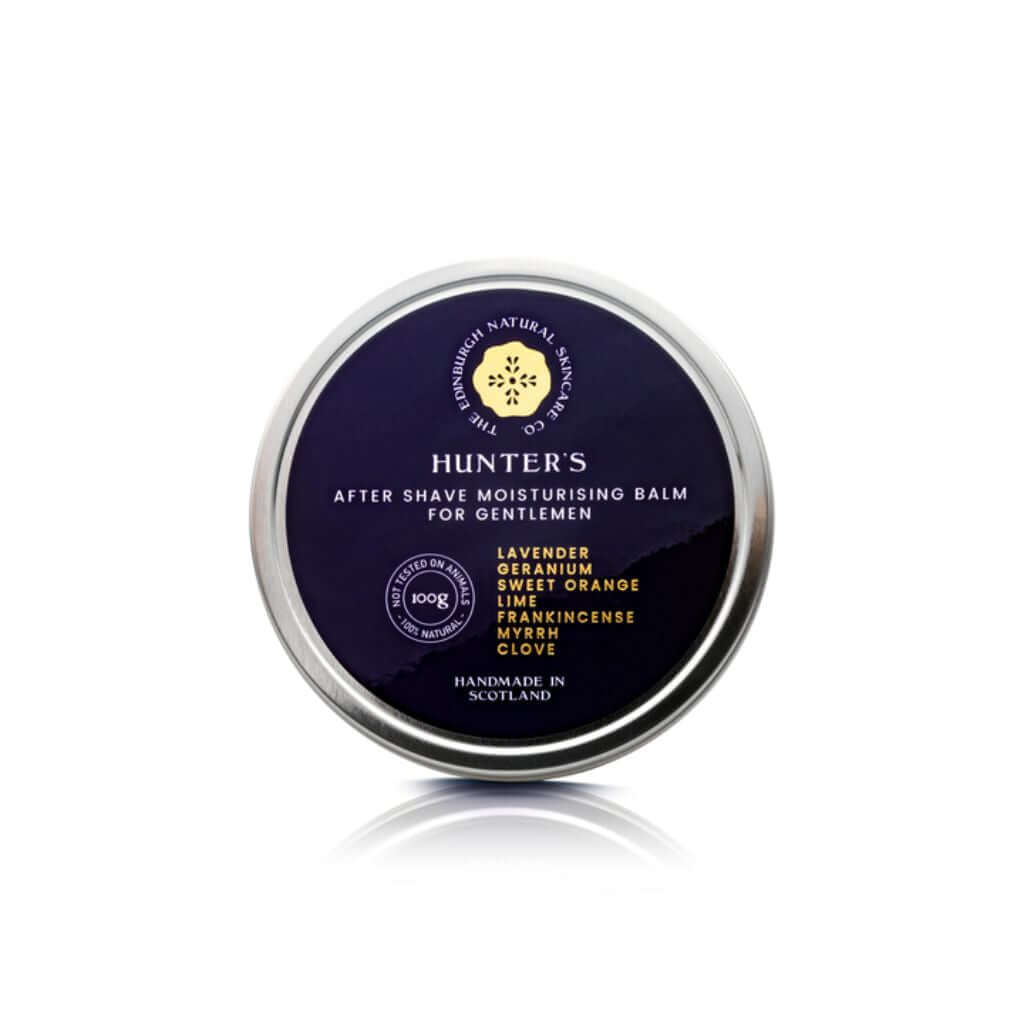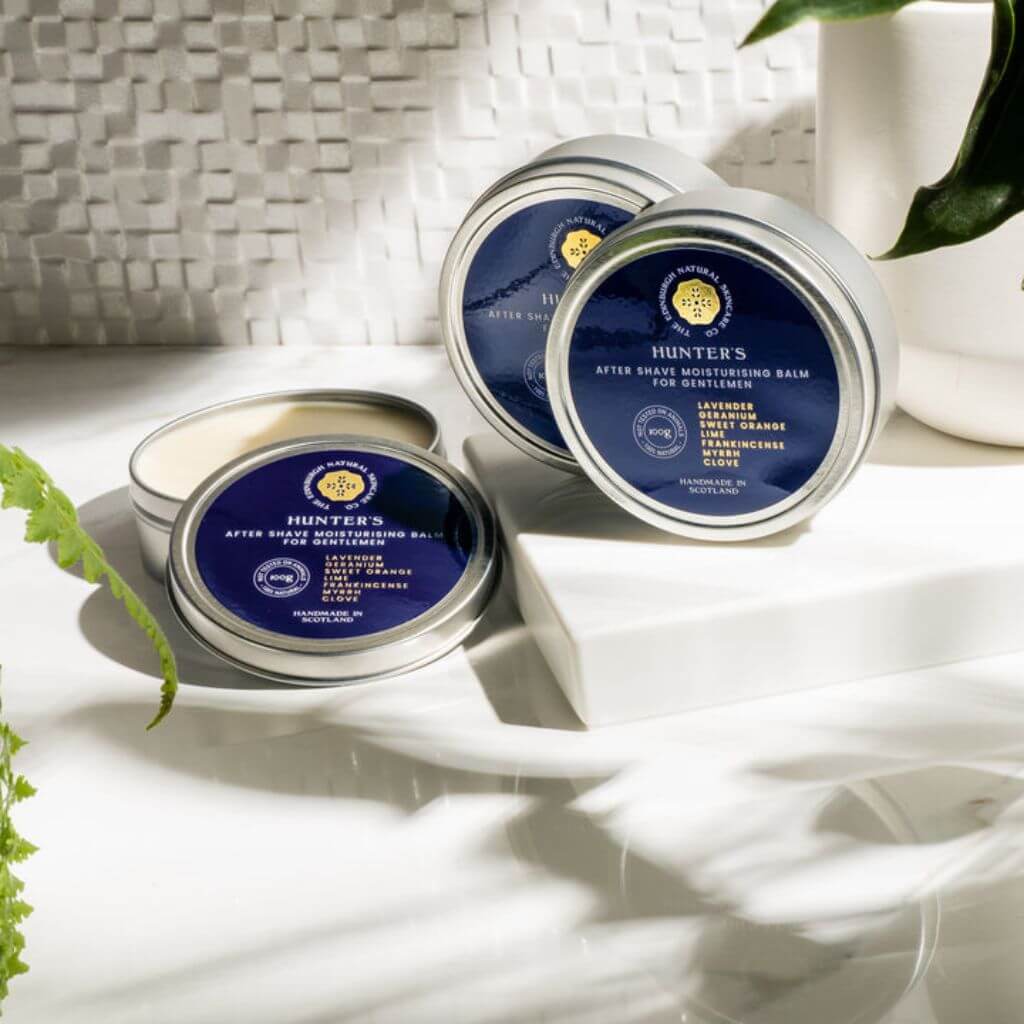 Edinburgh Skincare Hunter's Aftershave Balm for Gentlemen
Sale price
£16.99
Regular price
Tax included.
Introducing Hunter's Aftershave Balm for Gentlemen from The Edinburgh Natural Skincare Co. Handmade without using the harsh alcohols and chemicals that cause dry and weakened skin post-shaving, this aftershave balm leaves your skin feeling smooth, soothed and fresh without the lingering stinging and dryness of other aftershaves, all within this 100% natural aftershave balm.
Wonderfully scented with the famous Luxury No.1 essential oil blend and containing skin-softening eco-sustainable palm oil and pure beeswax. Combining French Provencal Lavender to provide anti-inflammatory and antibacterial benefits, virgin organic unrefined Shea Butter to deeply moisturise and nourish your skin, and a blend of other oils to take care of your skin, post-shave when it's at its most vulnerable. 
Handcrafted in Edinburgh, Scotland, this Aftershave Balm is contained within a Reusable Tin. The Edinburgh Natural Skincare Co. prides itself on using 100% natural ingredients and the purest essential oils that genuinely benefit the skin.

Size: 100g
Benefits
Soothing, refreshing, skin-friendly natural blend.

100% natural ingredients.

Contains no artificial colouring, preservatives, or fragrance oils.

Handmade in Edinburgh, Scotland.

Contained in a plastic-free, recyclable Aluminium tin.
Key Ingredients

Virgin organic unrefined Shea Butter for its ability to provide luxurious nourishment and deep moisturising as it contains high concentrations of natural vitamins and fatty acids beneficial to rejuvenating tired-looking skin.
Coconut Oil seeps deep into the skin pores for moisturising penetration. The lauric acid contained in coconut oil has beneficial antibacterial properties to help improve the healthy glow of naturally beautiful skin.
Pure Scottish Beeswax for the protective barrier it provides your skin from harmful effects of the environment. 
Beeswax also helps reduce dryness by locking in moisture into the skin.
Certified eco-sustainable Palm Oil for a natural source of vitamins A, C, and E and beta keratin, a powerful antioxidant that kills off free radicals that can lead to premature ageing by destroying skin cells.
French Provencal Lavender for its potent anti-inflammatory and antibacterial properties and ultra-soothing skin qualities.
Geranium helps balance the skin's natural oil production, minimises the appearance of enlarged pores, reduces the appearance of dull skin, promotes faster fading of scars and blemishes, and soothes and rejuvenates the complexion.
Sweet Orange Essential Oils contain anti-inflammatories and antiseptic properties.
Lime Oil contains high levels of limonene, a natural antioxidant helping to remove free radicals that damage cells which helps reduce the signs of ageing such as sun spots, fine lines and wrinkles. It also helps firm the skin.
Frankincense has anti-inflammatory effects that promote smooth skin and is an effective natural anti-acne and anti-wrinkle remedy. It treats dry skin and reduces the appearance of wrinkles, age spots, and scars.
Myrrh for reducing dry scalp and hair, soothing inflamed skin and relieving swelling whilst promoting elasticity of the skin and faster healing from wounds and broken skin spots.
Clove Oil contains flavonoids that have potent anti-inflammatory properties.
Ingredients
INCI List:
Butyrospermum parkii (Virgin organic unrefined Shea Butter), Cocos nucifera (Coconut oil), Elaeis guineensis (Certified eco-sustainable palm oil), Cera alba (Pure Scottish Beeswax), Lavandula augustifolia (French Provencal Lavender), Pelargonium graveolens (Geranium oil), citrus sinensis (Sweet Orange oil), citrus aurantifolia (Lime oil), Boswellia carterii (Frankincense), Commiphora myrrah (Myrrh), eugenia caryphyllata (Clove Essential Oil), citronellol*, limonene*, linalool*, eugenol*.
(*components of essential oils)
How to Use
After shaving, pad your face with a towel until dry, and apply the tip of your finger's worth of Hunter's Aftershave Balm for Gentlemen. 

Slowly massage it into your shaved area and enjoy the soothing and smoothing effects.
Packaging
An aluminium tin and lid.