Skip to product information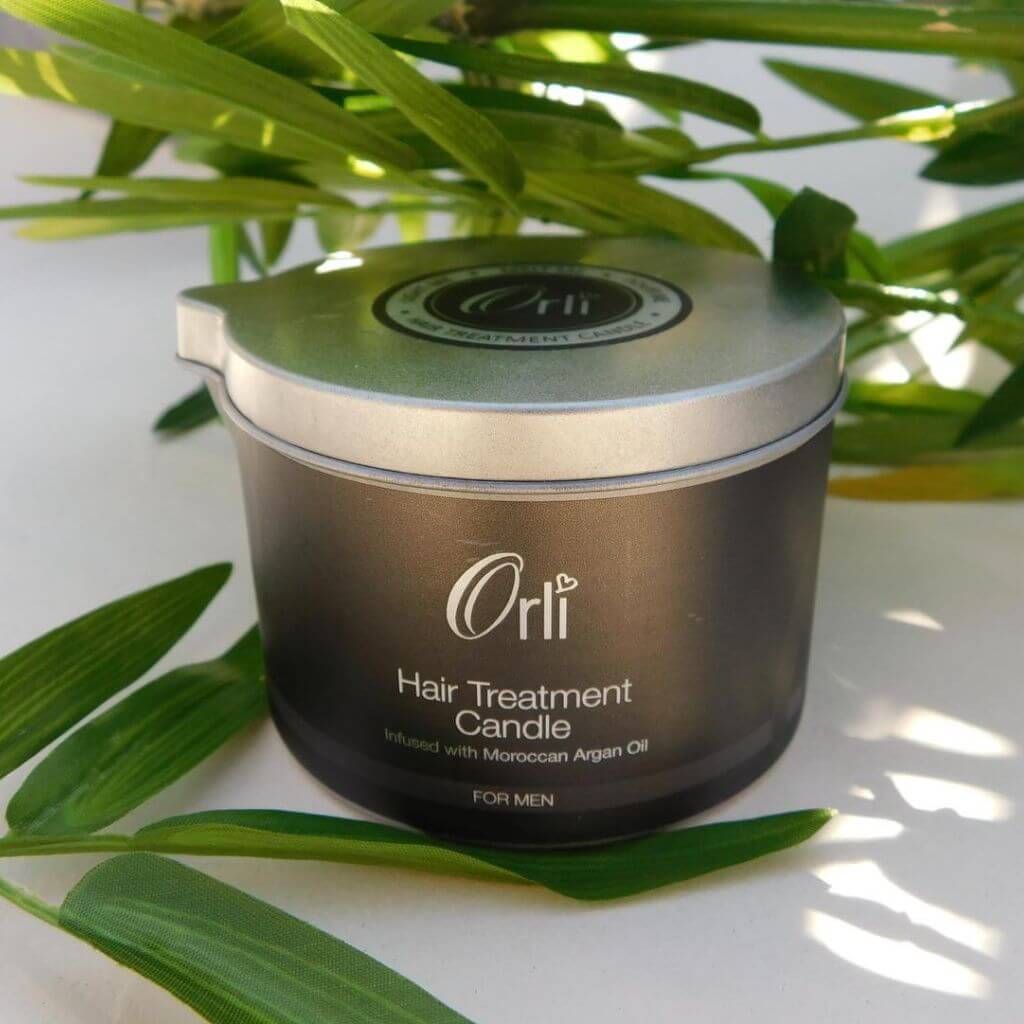 Orli Hair Treatment Candle - For Men
Sale price
£10.79
Regular price
£0.00
Tax included.
Award: Commended - 2022 - Beauty Shortlist Wellbeing Awards
Suitable for All Hair Types
A masculine-scented Hair Treatment Candle for Men. Easy and straightforward to use. Incorporating a unique blend of amazing natural ingredients such as Coconut Oil, Shea Butter and Hawaiian Kukui Nut Oil to nourish your hair, gently adding shine and strength.
This innovative Hot Oil Hair Treatment Candle can also be used as a massage candle, body oil, moisturiser, facial oil or bath oil.
Handcrafted in Scotland using therapeutic botanical oils and butters, specially selected for this unique Hair Treatment Candle. The heated oils penetrate deeper into the hair shaft while conditioning the scalp and skin. 
Size: 60g (Use sparingly as a little goes a long way)
Benefits
Handmade in Scotland. Vegan & Cruelty-Free Formula.

Helps reduce dryness of both the scalp & hair to reduce dandruff.

Helps to reduce wild ends by deeply conditioning hair.

When massaged into the scalp, it helps to increase blood flow to help promote healthier hair.

Adds shine and strength!

Suitable for all hair types.

Recyclable Aluminium Tin.
Key Ingredients
Coconut Oil: 

Coconut oil adds lustre, shine and softness to hair.

Argan Oil: 

With its high content of antioxidants, essential fatty acids, and Vitamin E, the benefits of argan oil naturally help increase hair's elasticity and consistently restore shine to dull, lifeless hair.

Kukui Nut Oil: 

The amino acids and essential fatty acids in kukui nut oil penetrate the hair shaft and leave hair looking healthy and moisturised. Kukui nut oil can be used as a treatment for an itchy scalp or dandruff. It has the same regenerative effects on the hair and scalp as on the skin.

Cocoa Butter: 

Cocoa Butter is highly protective, helping to moisturise hair and making it more manageable. Strengthens hair shaft, which helps to reduce breakage. Helps to repair dry and damaged hair, replenishing oils that are lost due to chemical processes.

Shea Butter: 

Shea butter is an emollient rich in fatty acids that helps to condition the scalp and hair shaft. It helps to soothe dry and itchy scalps and is a natural and effective conditioner. It also helps to keep rebel curls in place!

Jojoba Oil: 

Jojoba Oil has natural antioxidant and anti-bacterial properties and is rich in vitamins and minerals that nourish hair, including Vitamins B, C and E, Copper, and Zinc. Because it strengthens hair, it is also thought that jojoba oil can prevent hair loss and promote hair thickness.

Sweet Almond Oil: 

Sweet almond oil is rich in vitamins, including Vitamins B1 and B6, known to promote hair growth. It also contains Vitamin E, an antioxidant known to impact hair growth by repairing hair follicles and keeping them healthy and free of inflammation.

Vitamin E: 

Vitamin E helps stimulate capillary growth in the scalp, which, in turn, supports hair growth. Its antioxidants help boost hair elasticity and shine.
Ingredients
Hydrogenated soyabean oil, Cocos nucifera (Coconut) oil, Prunus amygdalus dulcis (Sweet almond) oil, Butyrospermum parkii (Shea) butter, Theobroma cacao seed (Cocoa) butter, Aleurites moluccana (Kukui) seed oil, Argania spinosa (Argan) kernal oil, Simmondsia Chinensis (Jojoba oil), Tocopherol (Vitamin E), Benzyl Salicylate, Butyphenyl Methylpropional, Geraniol, Limonene, Linalool. 
How to Use
Light Me
Ensure the wick is always trimmed to ¼ inch, and that the candle is not placed in a draught to prevent smoking. Using a candle lighter, light the wick. Keep away from flammable surfaces, hair and aerosols.
Melt Me
Let a melted pool form to the edge of the container. Melt just enough for a treatment. Extinguish the flame(s) and allow to cool slightly. Ensure the oil is not too hot before use!
Pour Me
For an intensely nourishing hair and scalp treatment, drizzle the melted oils over the hair and scalp and massage in. Wrap hair in a warm towel and leave for 15-20 mins before shampooing out as normal. Alternatively, apply to dry split ends only. You can also leave on overnight if preferred.
PLEASE NOTE: Always follow the label instructions to ensure safe use. DO NOT burn for longer than stated on the product label. This product is not a room candle and should not be treated as such.
Always do a patch test 24 hours before using a new product. Discontinue use if irritation occurs. 
Packaging
100% recyclable aluminium jar and lid.