Skip to product information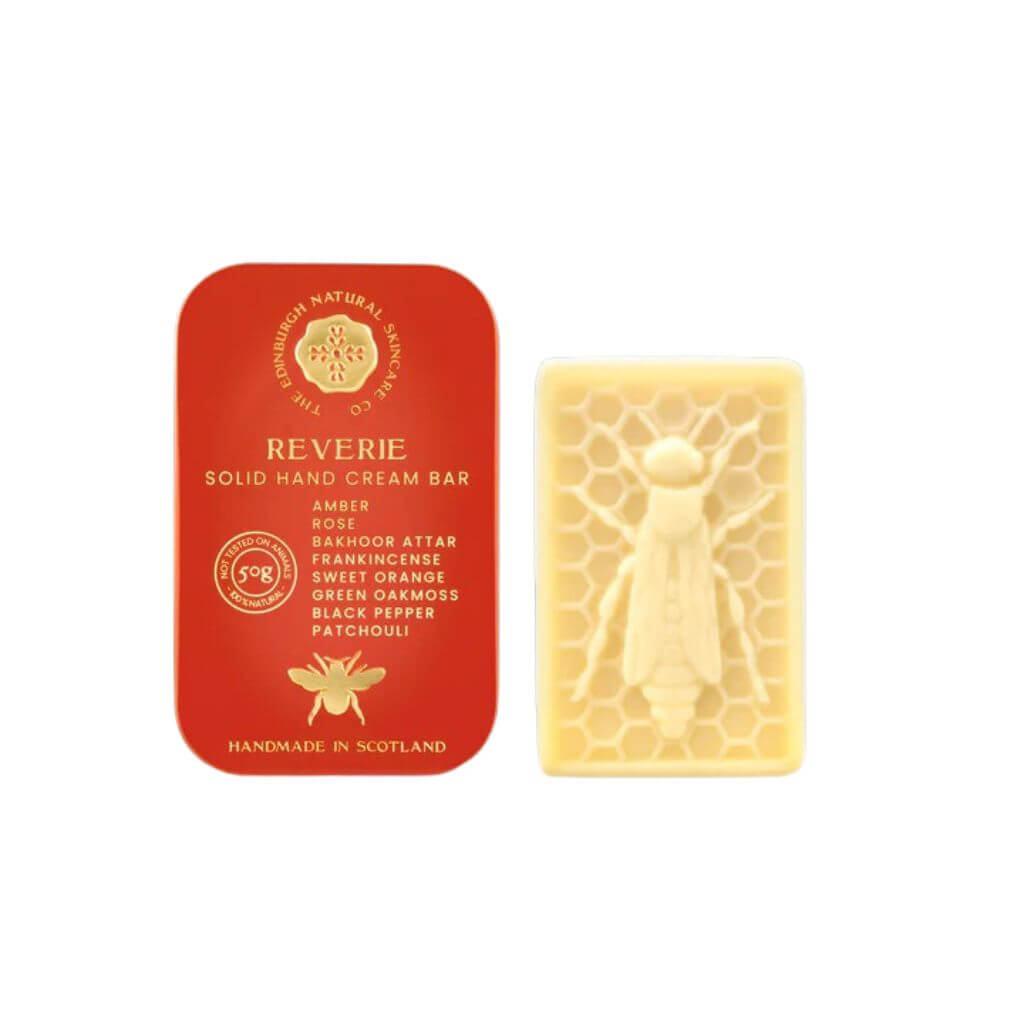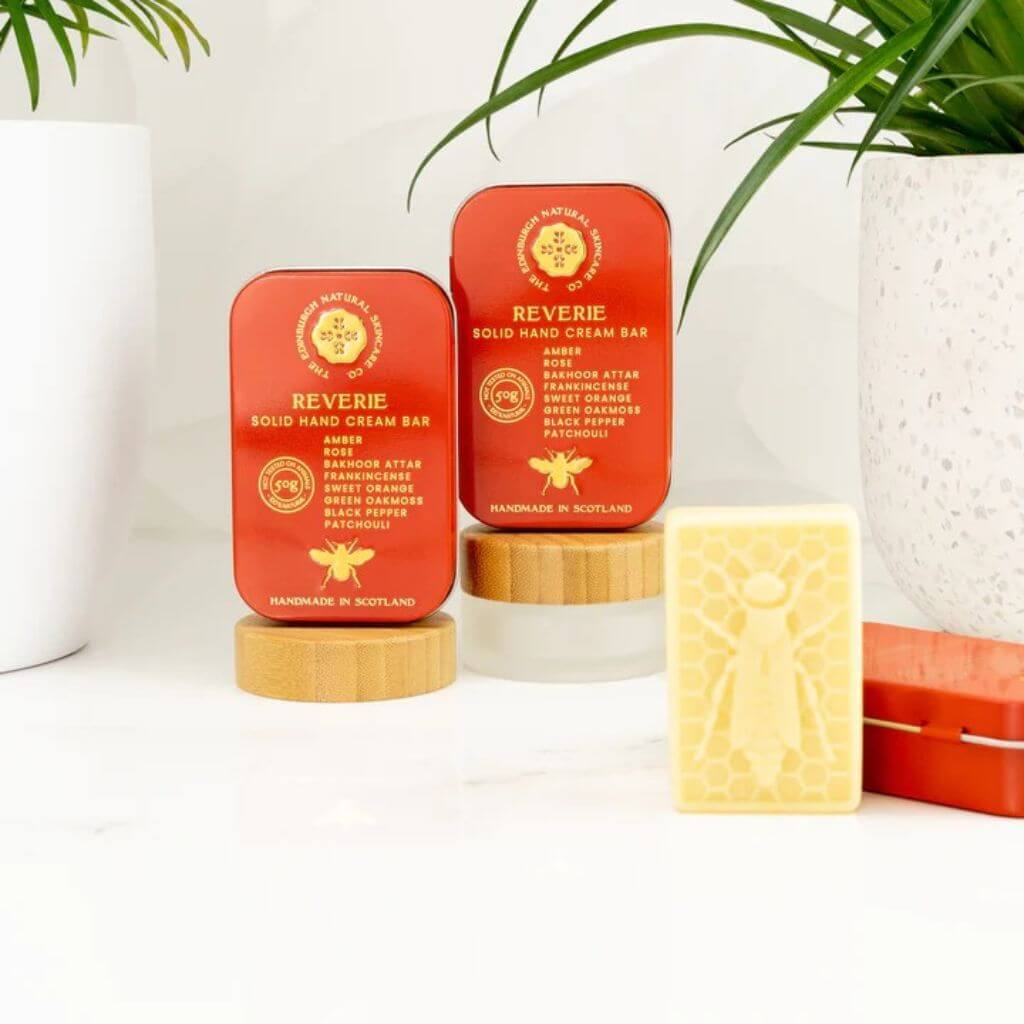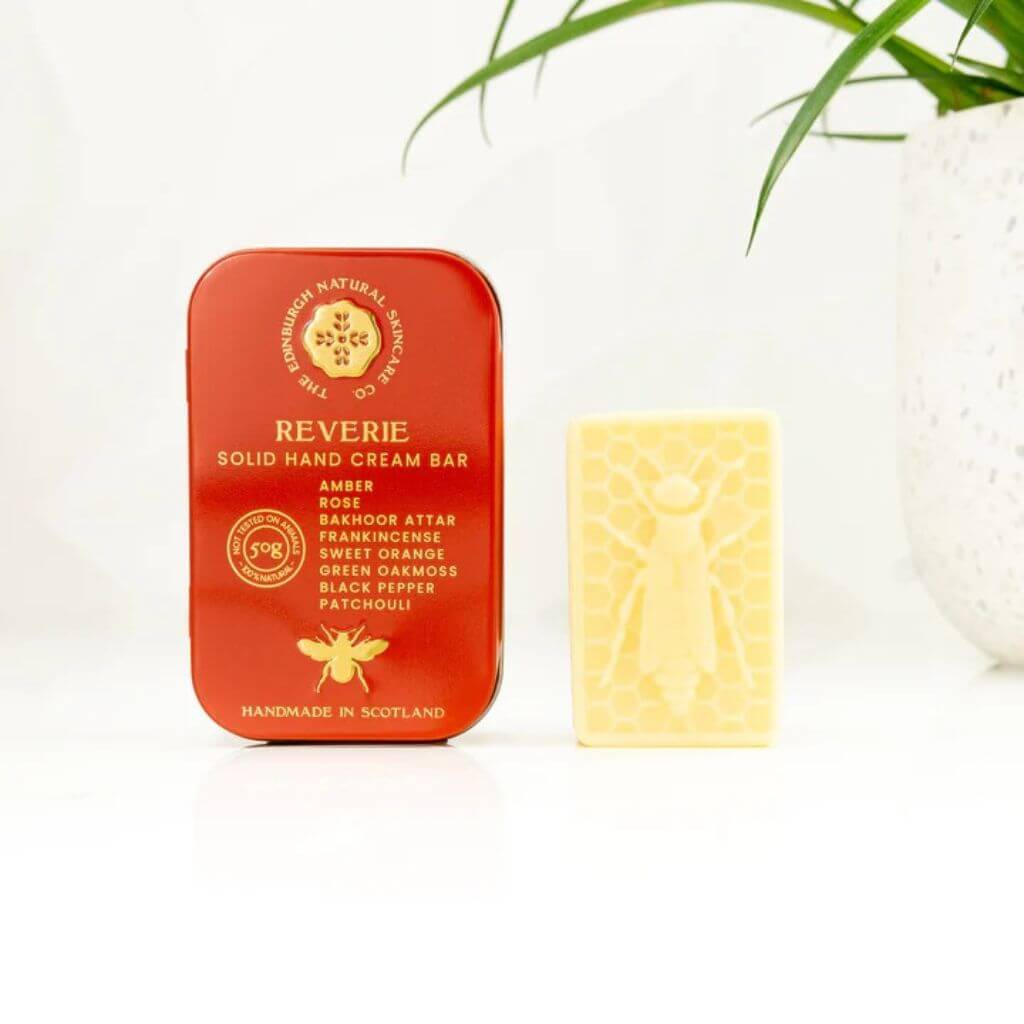 Edinburgh Skincare Reverie Solid Hand Cream Bar
Sale price
£11.49
Regular price
£12.00
Tax included.
Fragranced with a unique collection of botanicals and spices specially formulated by The Edinburgh Natural Skincare Co. This scent is a playful blend of darker florals and spices. Perfect for those who love a more mysterious floral scent. Including a remarkable combination of soothing essential oils that provide a beautiful aroma alongside therapeutic and moisturising effects, leaving your skin nourished and wonderfully soft.
It contains a beautiful rose perfume with amber oud and is free from artificial colouring, preservatives or fragrance oils.
This Reverie Solid Hand Cream Bar fuses Cocoa Butter, Beeswax and Coconut Oil to moisturise and restore your hands after every use. The essential oils have anti-anxiety, uplifting and anti-inflammatory benefits. Amber promotes stress relief, Patchouli moisturises, and Rose is an aphrodisiac.
Simply pop the luxury tin in your handbag for easy access to the hand cream bar throughout the day. Lovingly handmade in Edinburgh, Scotland, this Hand Cream Bar is safely wrapped in a 100% biodegradable sheath and contained within the Luxury Reusable Tin.
Size: 50g
Benefits
Powerfully potent nourishment in lightweight and convenient packaging.

Soothing, moisturising, protecting and conditioning.

Practical solution for a liquid-free hand cream on flights. 

Handmade in Scotland.

100% Natural & Cruelty-Free.

Petroleum & Paraben Free. No artificial colours, preservatives or fragrance oils.

100% biodegradable sheath in an aluminium tin. 
Ingredients
Cera alba, Cocos nucifera oil, Theobroma cacao seed butter, Amber extract, Mimusops elengi flower extract, Rosa centifolia flower oil, Citrus aurantium dulcis peel oil, Boswellia carterii gum extract, Evernia prunastri extract, Pogostemon cablin leaf oil, Piper nigrum fruit oil, Geraniol*, Hexyl cinnamol*, Citronellol*, Linalol*, Citral, Limonene*, Oakmoss extract*.
*Components of essential oils
Key Ingredients
Beeswax

 for a protective barrier it provides your skin from harmful effects of the environment. Helps reduce dryness by locking in moisture. 

Cocoa Butter

 contains essential fatty acids that deeply moisturise and nourish skin cells while offering protection from harsh environmental conditions, UV damage and free radicals.

Amber Extract

 is believed to have antioxidant properties that help protect the skin from environmental stressors and promote a youthful appearance.

Mimusops Elengi Flower Extract

 is known for its soothing and moisturising properties, helping to calm and hydrate the skin.

Rosa Centifolia Flower Oil

, derived from roses, is used for its aromatic and moisturising qualities, leaving the skin feeling hydrated and refreshed.

Sweet Orange Essential Oil 

contains anti-inflammatories and antiseptic properties.

Frankincense Essential Oil 

has anti-inflammatory effects that promote smooth skin and is an effective natural anti-acne and anti-wrinkle remedy. It treats dry skin and reduces the appearance of wrinkles and age spots, scars and stretch marks.

Oakmoss Extract

 is known for its natural fragrance and potential antiseptic properties.

Patchouli Leaf Oil

 is used for its soothing and toning effects, making it beneficial for irritated or sensitive skin.

Black Pepper Oil

 can help improve blood circulation and provide a warming sensation, making it helpful in stimulating and rejuvenating the skin.
How to Use
Gently rub over the surface of your palms and the backs of your hands, focusing on areas of dryness. 

Apply a little pressure to warm the tissues beneath the skin surface and increase circulation. 

Enjoy the subtle and sensual aroma on your skin.

Pop in your bathroom or handbag for a luxury treatment. 
Packaging
An Aluminium outer tin, with the product wrapped in a 100% biodegradable sheath.