Skip to product information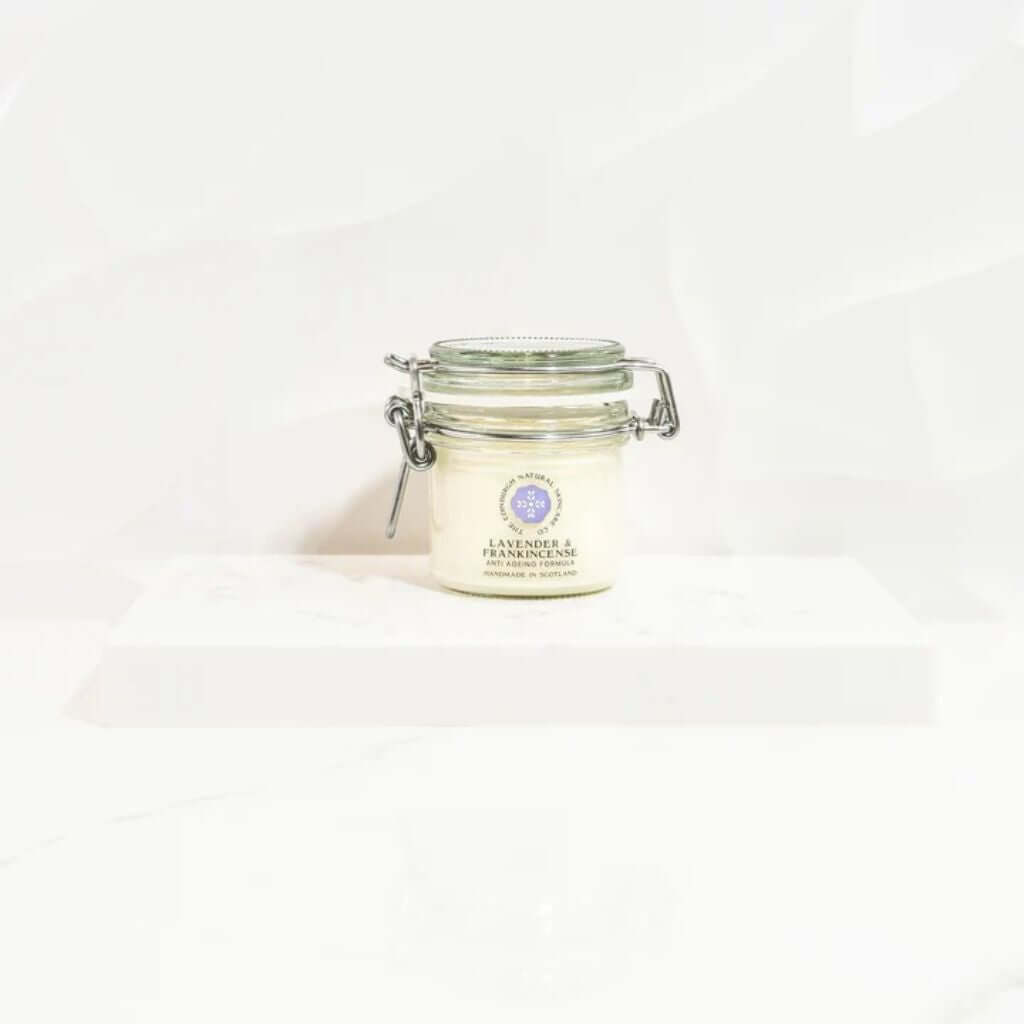 Edinburgh Skincare Lavender and Frankincense Anti Ageing Formula
Sale price
£16.99
Regular price
£17.99
Tax included.
Suitable for All Skin Types and all over-body use
Protect and revitalise your skin with natural ingredients that heal tired, dry-looking skin.
Expertly blended with French Provencal Lavender and Frankincense essential oils, creating a sumptuous fragrance that with envelope your body in a subtly exotic aroma.
This Lavender and Frankincense Anti Ageing Formula cream, is designed for use all over your body. With virgin organic unrefined Shea Butter, Coconut Oil, eco-sustainable Palm Oil, virgin organic Hemp Oil, and Beeswax- a formula developed especially to nourish your skin, moisturises the surface, help to prevent the signs of ageing, soothe your skin, and provide a protective barrier to defend against atmospheric aggressors.
Pollutants in the environment often damage our skin. As the first line of defence, it often feels dry, damaged, and tired. It's vital to replenish the nutrients your skin requires to stay hydrated, balanced, and healthy.
In the perfect luxury jar and lovingly handmade in Edinburgh, Scotland, this Anti-Ageing cream is safely sealed in a glass preserving jar and ready to use.
Size: 100ml
Benefits
Delicately fragranced with French Provencal Lavender and Frankincense Essential Oils.

Quick absorption, non-messy Formula.

Responsibly sourced ingredients, 100% Natural & Cruelty-Free.

Handmade in Scotland.

No artificial colours, preservatives or fragrance oils.

Reusable & Recyclable Glass Jar.
Ingredients
Butyrospermum parkii butter, Cocos nucifera oil, Elaeis guineensis oil, Cera alba, tocopherol, Lavendula augustifoloia oil, Boswellia carterii gum oil, Cannabis sativa seed oil, Limonene*, Geraniol*, Linalol*.
*Components of essential oils
Key Ingredients
Virgin organic unrefined Shea Butter for its ability to provide luxurious nourishment and deep moisturising benefits as it contains high concentrations of natural vitamins and fatty acids beneficial to rejuvenating tired-looking skin.
Coconut Oil seeps deep into the skin pores for moisturising penetration. The lauric acid contained in coconut oil has beneficial antibacterial properties to help improve the healthy glow of naturally beautiful skin.
Certified eco-sustainable Palm Oil for a natural source of vitamins A, C, and E and beta keratin, a powerful antioxidant that kills off free radicals that can lead to premature ageing by destroying skin cells.
Beeswax for a protective barrier it provides your skin from harmful effects of the environment. Beeswax also helps reduce dryness by locking in moisture into the skin.
Virgin Organic Hemp Oil relieves dry skin because it is loaded with antioxidants and Omega-3, Omega-6, and polyunsaturated fatty acids. Fantastic at soothing dry skin and inflammation.
Frankincense has anti-inflammatory effects that promote smooth skin and is an effective natural anti-acne and anti-wrinkle remedy. It treats dry skin and reduces the appearance of wrinkles and age spots, scars and stretch marks.
French Provencal Lavender for its potent anti-inflammatory and antibacterial properties and as its ultra-soothing for the skin.
How to Use
A little goes a long way. 
Ensure that your skin is clean and dry, then dab the tips of your fingers into the Lavender and Frankincense Anti Ageing Formula and begin to work it into your skin in soft, circular motions.
This cream is suitable for all-over body use, including delicate skin and even the driest areas.