UpCircle Cinnamon and Ginger Chai Cleansing Bar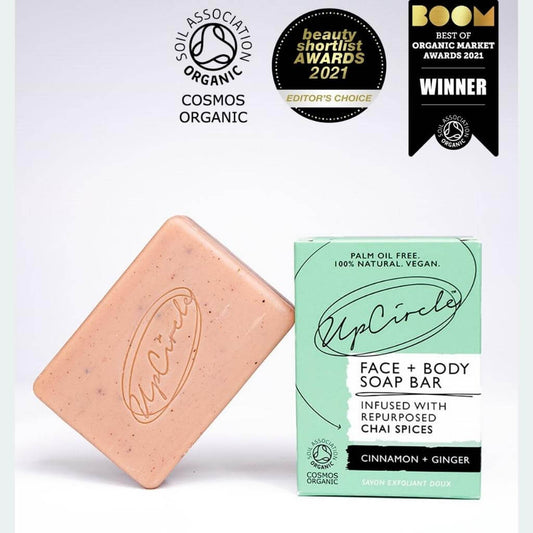 UpCircle
UpCircle Cinnamon and Ginger Chai Cleansing Bar
Sale price
£4.99
Regular price
£5.49
UpCircle Fennel and Cardamom Chai Cleansing Bar
UpCircle
UpCircle Fennel and Cardamom Chai Cleansing Bar
Sale price
£4.49
Regular price
£5.49
In the pursuit of healthy, radiant skin, exfoliation often gets overlooked. But this crucial step in your skincare routine can make a world of difference in revealing the complexion you've always desired. Here's why incorporating our natural exfoliating soaps into your regimen is essential for your skin's well-being:
1. Unclog Pores and Fight Acne:
Dead skin cells can accumulate on the surface of your skin, trapping dirt, oil, and bacteria, leading to clogged pores and breakouts. Our exfoliating soaps gently remove these dead cells, keeping pores clear and preventing acne-causing impurities from settling in.
2. Even Out Skin Tone and Texture:
As dead skin cells pile up, they can create a dull, uneven appearance and rough texture. Our exfoliating soaps work to slough away these cells, revealing the brighter, smoother skin beneath.
3. Enhance Skin Cell Turnover:
Regular exfoliation stimulates the production of new skin cells, promoting a healthy turnover process. This results in a more youthful, radiant complexion with increased elasticity and reduced signs of ageing.
4. Improve Product Absorption:
After exfoliation, your skin is better prepared to absorb the nourishing ingredients in your moisturisers and serums. This means your skincare products will work more effectively, delivering deeper hydration and nutrients.
5. Promote Healthy Skin Circulation:
The gentle exfoliating action of our soaps stimulates blood flow to the skin, bringing essential nutrients and oxygen to the surface. This improves circulation, leaving your skin feeling invigorated and revitalised.
Why Our Exfoliating Soaps Are Better for Your Skin:
Natural Ingredients: Our soaps are formulated with carefully selected natural exfoliants, such as finely ground pumice and walnut shells, which are gentle on the skin yet effective in removing dead cells.
Hydrating Formula: Unlike harsh chemical exfoliants, our soaps contain moisturising ingredients that keep your skin hydrated and prevent dryness.
Suitable for All Skin Types: Our range includes soaps formulated for sensitive skin, ensuring that everyone can experience the benefits of gentle exfoliation.
Sustainable and Ethical: We are committed to sustainable practices and ethical sourcing, using plant-based ingredients and ensuring fair trade with our suppliers.
Frequently Asked Questions:
Q: How often should I exfoliate?
For most skin types, exfoliating 1-2 times a week is sufficient. If you have sensitive skin, start with once a week and gradually increase the frequency as your skin tolerates it.
Q: Can I use exfoliating soap on my face and body?
Yes, our exfoliating soaps are gentle enough to use on both your face and body. However, we recommend using a separate soap for your face, as the skin on your face is more delicate.
Q: Should I exfoliate before or after cleansing?
Always exfoliate after cleansing. Cleansing removes dirt and impurities from the skin's surface, while exfoliation removes dead skin cells.
Q: What should I look for in an exfoliating soap?
Look for a soap with natural exfoliants that are gentle on the skin and avoid harsh chemicals. Our soaps are formulated with finely ground pumice and walnut shells, which are effective yet gentle.