Skip to product information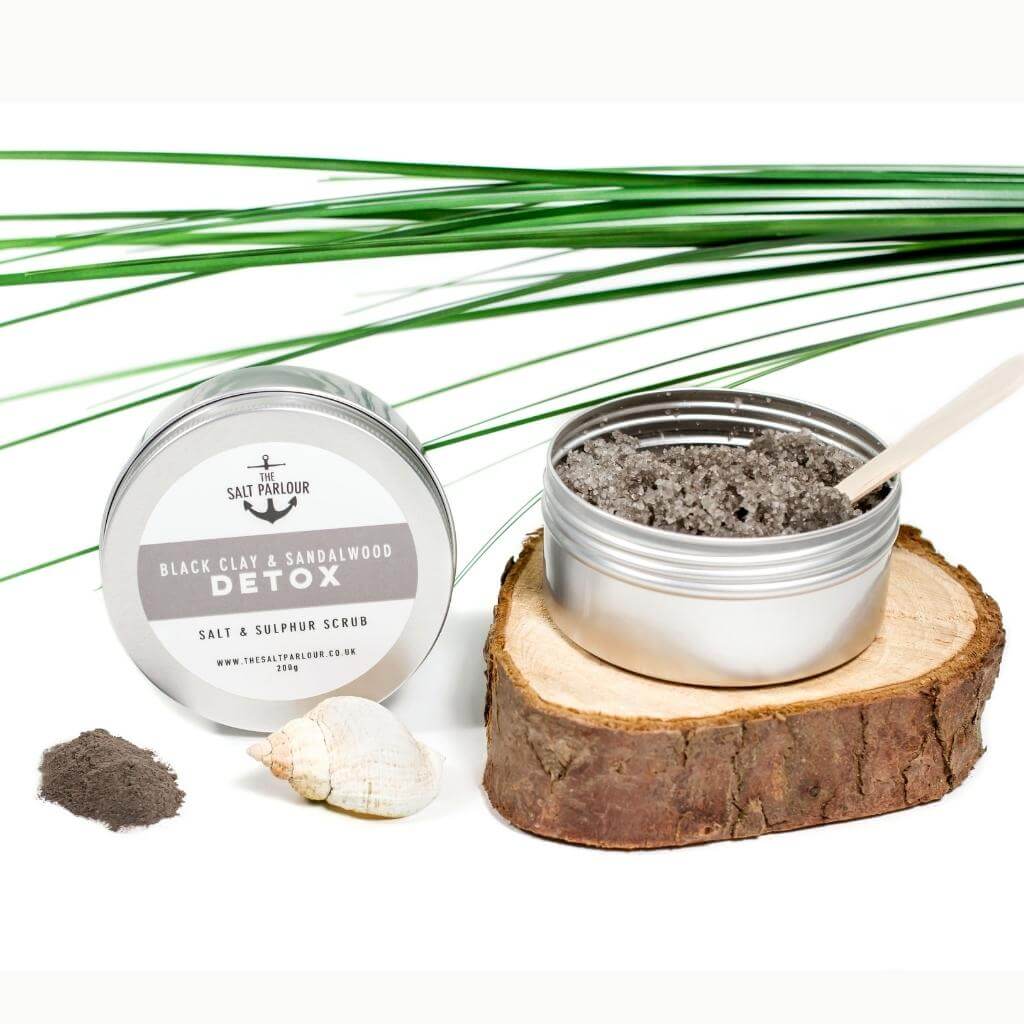 Black Clay & Vanilla Scrub - DETOX
Sale price
£14.99
Regular price
£17.95
Tax included.
A fantastic body salt scrub that provides relief from oily prone skin. Fundamental to cleansing blocked pores and returning balance and vibrance to the skin. This salt body scrub improves blood and cell circulation and helps to reduce redness. It will lift your senses and give you a lovely detox by combining Black Clay's unique iron and oxygen properties with delicious fragrances of Vanilla, Cedarwood and Sandalwood essential oils.
Made with Dead Sea Salt, renowned for its therapeutic effects since ancient times – filled with magnesium, potassium, calcium chloride, and bromides. 
Size: 200g
Benefits
Dead Sea Salt contains magnesium to reduce inflammation.

Promotes loosening of dead skin cells.

Vegan.

Cruelty-Free and 99% Natural.

Handmade.

Fully Recyclable cardboard box and aluminium tin packaging.
Ingredients
Dead Sea Salt (Maris Sal), Sugar (Sucrose), Organic Sulphur (Methylsulfonylmethane), Organic Coconut Oil (Cocos Nucifera), Peach Kernel Oil (Prunus Persica), Pumice Stone (Pumicite), Jojoba Oil (Buxus Chinensis), Vitamin E (Tocopherol), Black Clay (Iron Oxide), Vanilla Fragrance Oil (Parfum), Cedarwood Essential Oil (Cedrus Atlantica), Sandalwood Essential Oil (Amyris Balsamifera)
How to Use
You can use Salt & Sulphur Scrubs in the bath or shower, and they can be used on wet or dry skin. Recommended using no more than four times per week.
Gently shake the tin to loosen the scrub, and using the spoon, scoop out your desired amount (try not to put a wet hand inside the tin).

Scrub in circular motions concentrating on any problem areas you may have, and leave on for 5 minutes letting the oils, vitamins and minerals soak in.

Once finished, rinse off with just water and pat dry so the oils can continue to do their magic.  
Do not use the scrub on freshly shaved legs - we recommend exfoliating 24 hours before shaving as your freshly shaved skin can be a little more sensitive. 
Do not use the scrub on broken or irritated skin. Rinse well with warm water if you get the scrub in your eyes.
Pregnancy: We recommend not using The Salt Parlour scrubs during pregnancy. This is due to the essential oils in the products. Please consult your doctor before purchasing if you decide to go ahead and order.