Skip to product information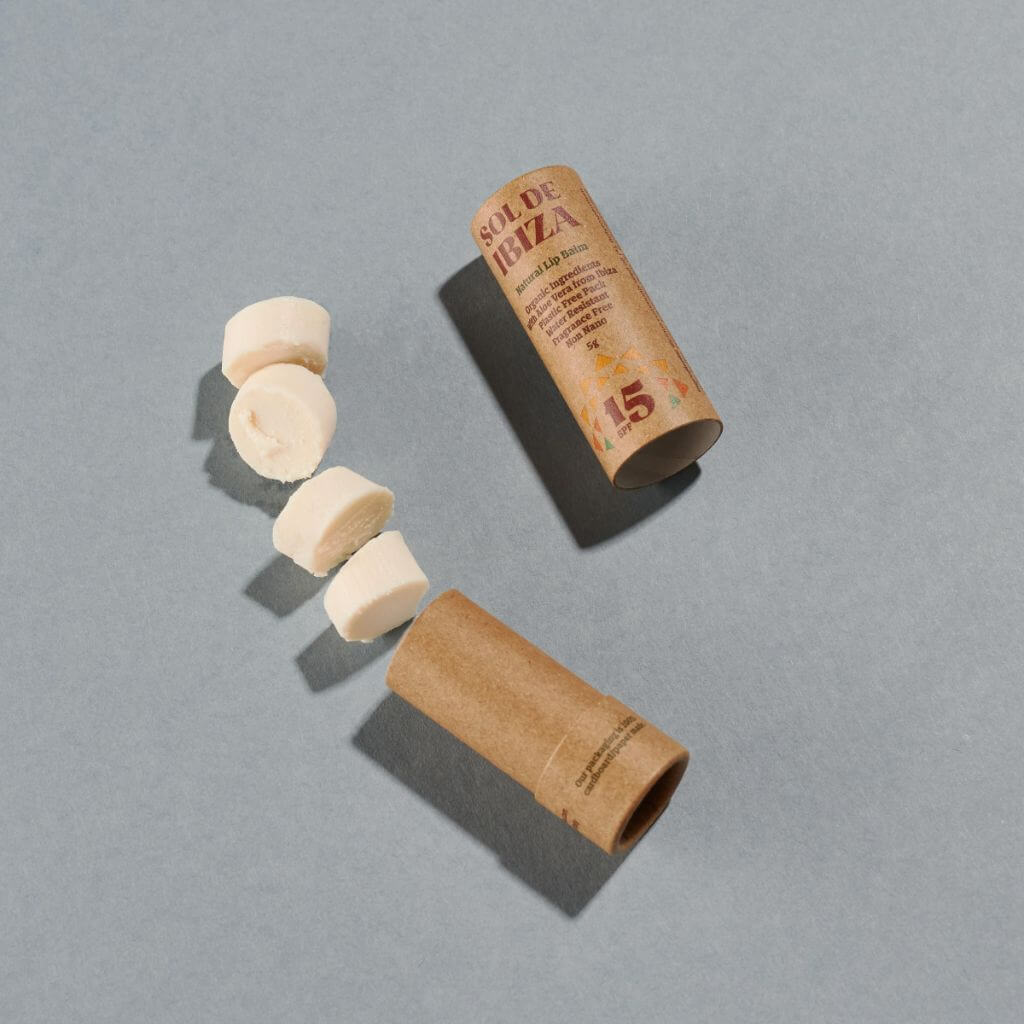 Sol de Ibiza Plastic Free Natural Lip Balm SPF15
Sale price
£10.99
Regular price
£0.00
Tax included.
Award: Commended - 2022 - Beauty Shortlist Awards
Suitable for All Skin Types, including Sensitive Skin
This handy-sized Sol de Ibiza SPF15 Natural Lip Balm is great for keeping the lips soft and supple and protecting them from the harmful everyday UVA and UVB rays. A vegan formula crafted with aloe vera to cover the whole family and is suitable for all skin types. 
Containing a natural blend of ingredients such as ricinus oil, shea butter and almond oil, all helping to moisturise and repair the skin for hours.
Suitable for daily use and ready for every moment you feel your skin needs an extra dose of care and love!
Sol de Ibiza embraces the idea of chemical-free, plastic-free natural sunscreen products for the whole family. Uniquely crafted for all climates and born from the idea of protecting the environment.
Size: 5g
Benefits
Fragrance-Free formula.

Natural ingredients with Zinc Oxide for Broadspectrum protection from UVA, UVB, Blue Light, Wind and Pollution.

Sustainable and with Organic Ingredients.

All Skin Types and Suitable for daily use.

Vegan and Cruelty-Free.

100% cardboard/paper packaging, fully recyclable.
Ingredients
Ricinus communis seed oil (*), Butyrospermum parkii butter, Prunus amygdalus dulcis oil, Euphorbia cerifera cera, Zinc oxide, Olea europaea fruit oil, Cetyl palmitate, Simmondsia chinensis seed oil, Caprylic/capric triglyceride, Hydrogenated vegetable oil, Theobroma cacao butter, Tocopheryl acetate, Aloe barbadensis leaf extract, Helianthus annuus seed oil, Argania spinosa oil (*), Tocopherol, Ascorbyl palmitate, Lecithin, Polyhydroxystearic acid, Citric acid.
(*) ingredients coming from organic farming
Key Ingredients
ZINC OXIDE will protect your skin by absorbing UVA, UVB rays and blue light
RICINUS OIL will moisturise and protect your skin
SWEET ALMOND OIL will nourish and hydrate your skin
SUNFLOWER SEED OIL is antioxidant, anti-inflammatory and antibacterial
SHEA BUTTER the natural environmental protector. It is anti-inflammatory and antimicrobial.
OLIVE OIL antioxidant and sun damage protector.
CAPRIC TRIGLYCERIDES are produced by esterifying glycerol (plant sugars) with mixtures of caprylic and capric fatty acids from coconut oil. They give the skin a silky feel rather than greasy, especially in waterless formulations.
CACAO BUTTER is nourishing and anti-inflammatory. It protects from UV-induced photo-damage.
TOCOPHERYL ACETATE is a derivative of Vitamine E, used as an antioxidant.
ARGAN OIL calms inflammation and reduces ageing signs.
TOCOPHEROL is a form of vitamin E that comes from vegetable oils. It works as both an antioxidant and a skin conditioner. It also has anti-inflammatory properties.
CETYL PALMITATE It is an ester used as both thickener and emollient (conditions the skin's surface). It is 100 % vegetable origin.
LECITHIN extracted from sunflower oil, Lecithin is a natural component of skin cell membranes. It helps skin hydration and elasticity.
POLYHYDROXYSTEARIC ACID works as a dispersing agent for our non-nano zinc oxide, making sure it is evenly distributed across the skin. Fundamental to create even coverage and protection for your skin.
CITRIC ACID is a natural antioxidant used to balance the pH of cosmetics.
How to Use
Push up gently from the bottom, only as much as you need. 

Apply as often as you like. 
Compost empty packaging and repeat.