Skip to product information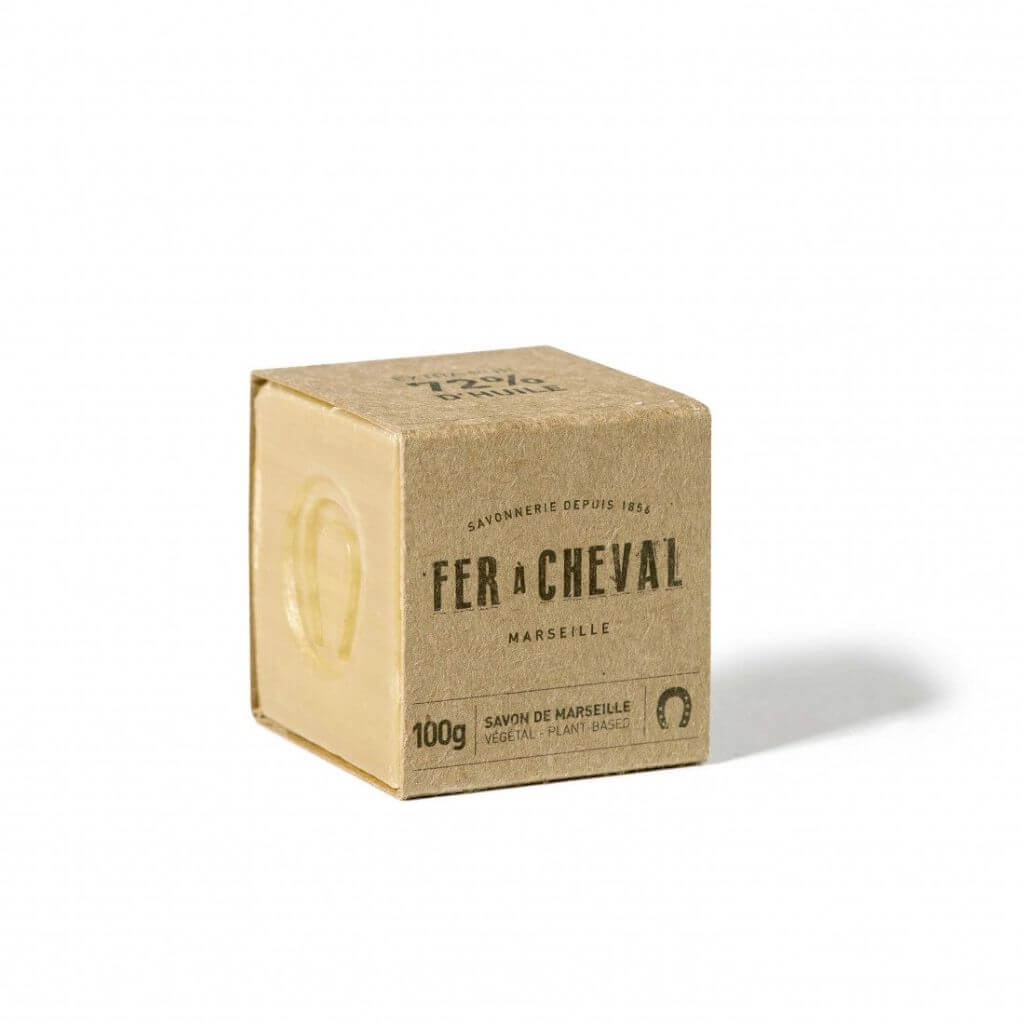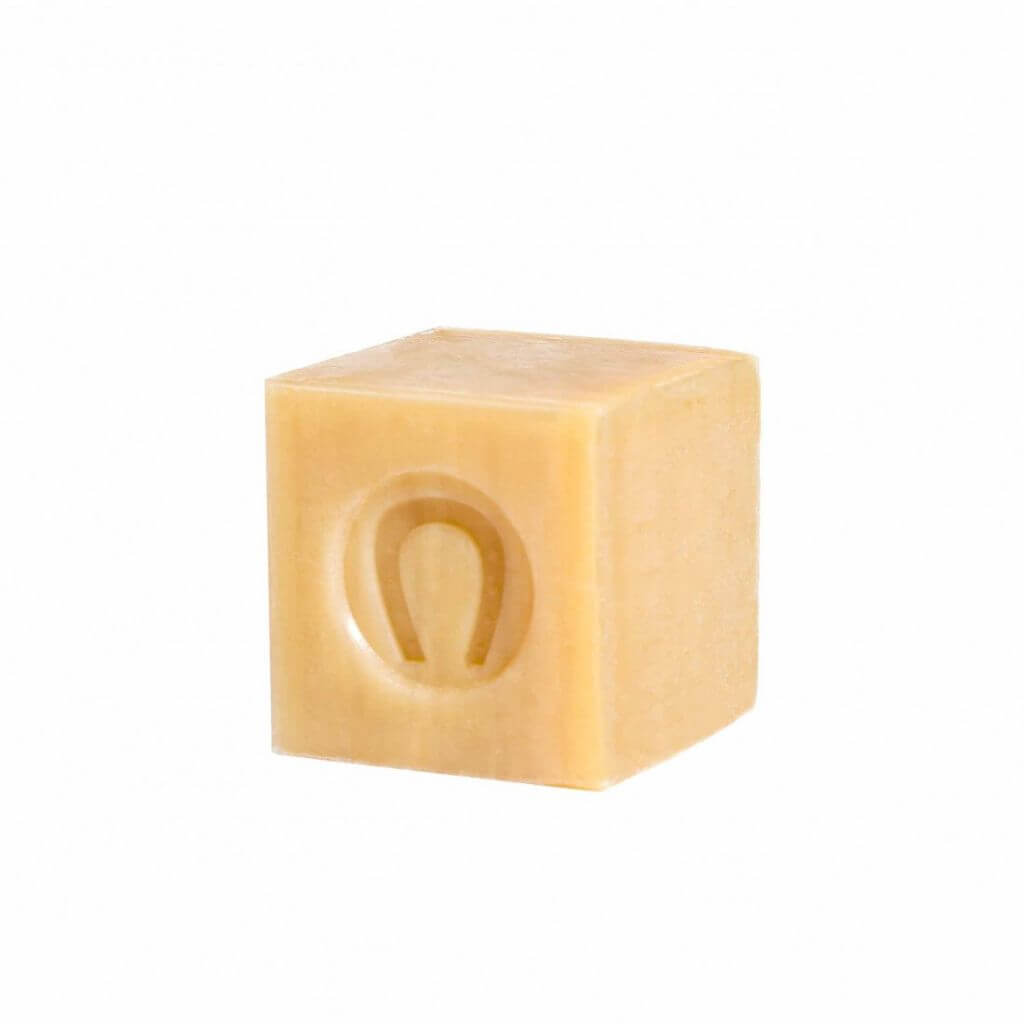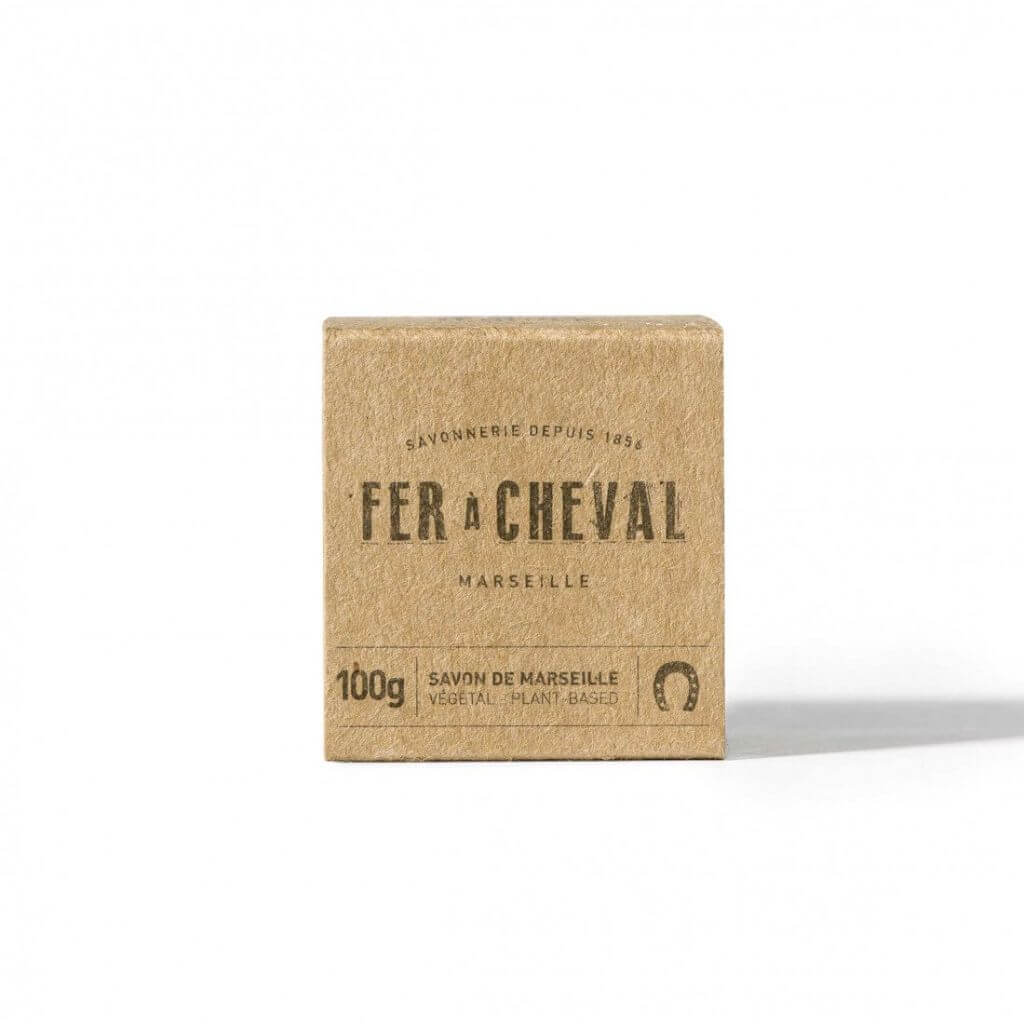 Fer a Cheval Genuine Marseille Vegetable Soap Cube
Sale price
£4.20
Regular price
£0.00
Tax included.
An authentic, traditional soap cube uniquely crafted in the cauldrons of the Marseille Fer à Cheval soap factory. This cube style is the most time-honoured and original soap cube, recognisable worldwide. 
A natural and hypoallergenic soap made exclusively from vegetable oils, without adding preservatives, colourings, perfumes or animal fats, making this soap perfectly vegan, fragrance-free, and for all skin types. It is readily biodegradable and non-polluting, so it is gentle on the environment.
It offers a gentle all-purpose, natural, healthy and effective alternative soap, used on all skin types for hand and body and can even be used in the laundry on fabrics.  
Size: 100g 
Benefits
Natural hypoallergenic blend of Vegetable Oils.

Vegan, Fragrance-Free and Cruelty-Free.

For All-Skin types including Sensitive Skin.

100% Natural product.

Fully Recyclable cardboard packaging with ECOCERT and RSPO certification.

Traditionally made in Marseille, France, since 1850.
Ingredients
Sodium Palmate - Aqua (water) - Sodium Palm Kernelate - Sodium Chloride - Sodium Hydroxide
*This soap may undergo colour variations depending on exposure to light and humidity. Made up of active ingredients and a maximum of 21% water; by losing this water, it loses part of its weight.
How to Use
This soap suits all skin types, including sensitive and hypersensitive skin. It may be used daily for hand washing and showering. 
Apply to damp skin, lather and massage gently, then rinse. 
External use only. Avoid contact with eyes.
Tips and Tricks
This soap can also be used as a multi-purpose household cleaner. It effectively cleans, degreases and detaches all surfaces and linens, even the most delicate.
To clean
Walls, ceilings
There is nothing like Marseille soap to wash and degrease walls and ceilings. Dilute a handful of soap shavings in a bucket of hot water. Wash with a sponge mop and rinse with clear water.
Iron
Regularly clean the soleplate of the iron that has become dirty or yellow by rubbing a piece of dry soap when the soleplate is slightly warm. Wipe with a soft dry cloth or a ball of newspaper to shine the surface.
Makeup brushes, sponges
Regular washing will rid them of dust and makeup residue that has accumulated over time. Gently soap the brushes without crushing them too much so as not to break the bristles. Repeat the wash until the water runs clear. Dry them with a dry cloth, then turn them upside down so that the brushes return to their initial shape.
Mattress
To keep a mattress fresh and clean, simply pass a washcloth moistened with Marseille soap on the surfaces to be cleaned. Then iron a glove soaked in clean water to rinse and let dry all day.
Prams, baby equipment
Hypoallergenic Marseille soap is ideal for maintaining childcare equipment such as prams. Wash the removable covers in the machine with a detergent of Marseille soap flakes. For non-removable covers, wash with a sponge moistened with soap. For odorous and stubborn stains, rub with soap and a little baking soda, leave to act for a few hours to loosen the dirt, and then rinse. Allow to air dry well.
Shoes
Scrub your shoes with a soft brush soaked in warm water and Savon de Marseille, and let air dry without rinsing.
Tips
Remove fog
To fight against the fogging of your mirrors, glasses...simply pass a small piece of Savon de Marseille on the surfaces and wipe them with a clean cloth. Repeat this trick every month.
Unblock a zipper
To loosen your zipper, use a piece of Savon de Marseille and rub the notches of the zipper.
Erase the trace of a hem
To remove traces of a hem, rub Marseille soap on the surface, lay a piece of tissue paper and iron with a hot iron.
Linen care
Traditional recipe
Dilute a handful or 40g of shavings in 1L of hot water and stir until a gel is obtained, and the detergent is ready to use. Store in a suitable bottle, and shake well before each use.
Recipe for stubborn stains
Dilute 100g of shavings in 2L of hot water, add 1 cup of baking soda and ½ cup of white vinegar. Allow to cool and shake well before use.
Stubborn stains
In general, rub with moistened soap the stains, collars and handles of shirts before washing them in the washing machine or by hand.
For tougher stains, proceed in the same way but leave it to act for a few hours before washing.
Leather couch
Coat a washcloth or a moistened and well-wrung cloth with Marseille soap, then lightly massage the leather in circular motions. Dry with a clean cloth. This cleaning will bring suppleness and longevity to the leather.
Wooden deck
Regularly rid the terrace of mould, impurities and pollution accumulated for months by washing it with a brush broom, a basin of hot water and a handful of diluted soap flakes. This simple and effective cleaning will allow you to better maintain your terrace over time.
Usage tips
Store Marseille soap
Store Marseille soap in a shady, dry place. It is indeed a living material with a complexion and shape that can change over time and according to its exposure to air, humidity and light. It will nevertheless keep all its qualities and efficiency. Our grandmothers also let it dry for months in their cupboards so that it becomes extra dry and lasts longer with use.
Make your shavings
Take a cheese grater to make shavings from a cube or a bar of Marseille soap. We recommend using the beige vegetable soap, which will be harder and more straightforward to grate than the olive soap.