Skip to product information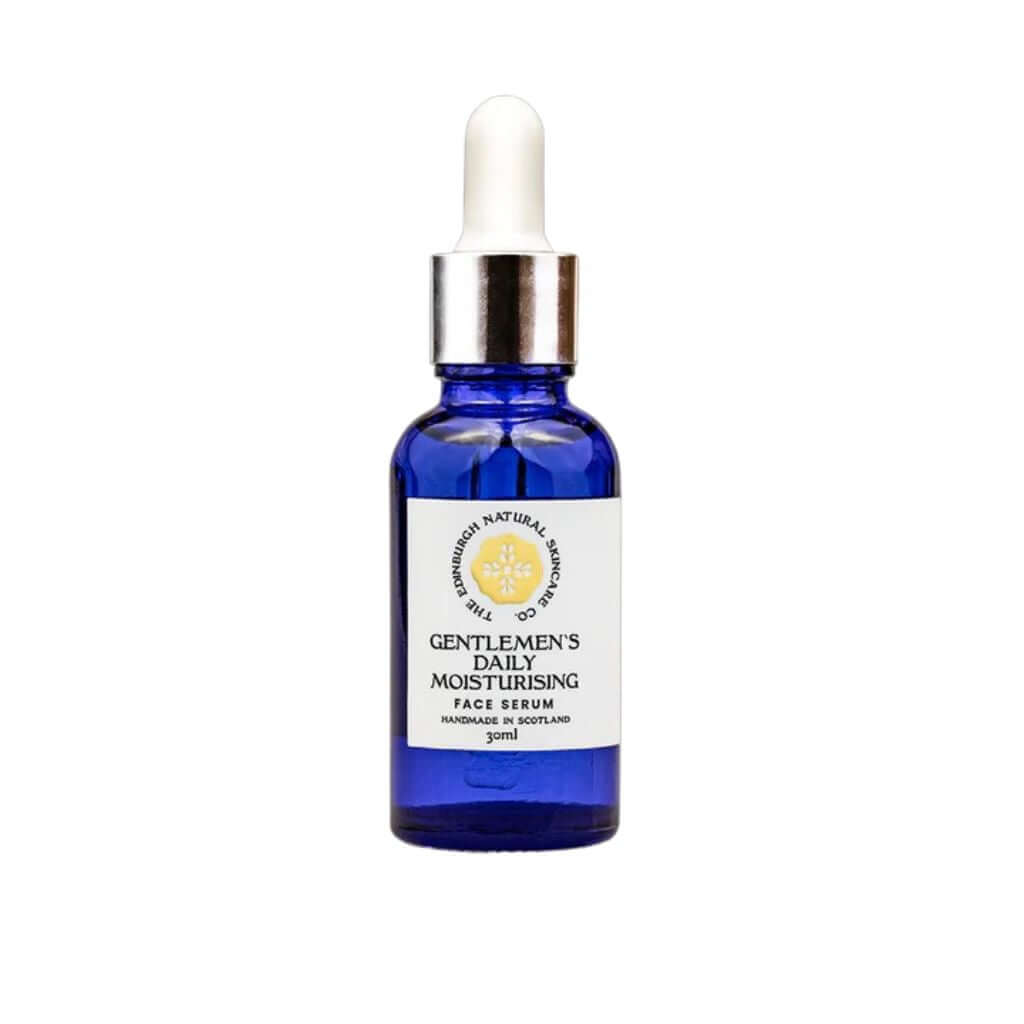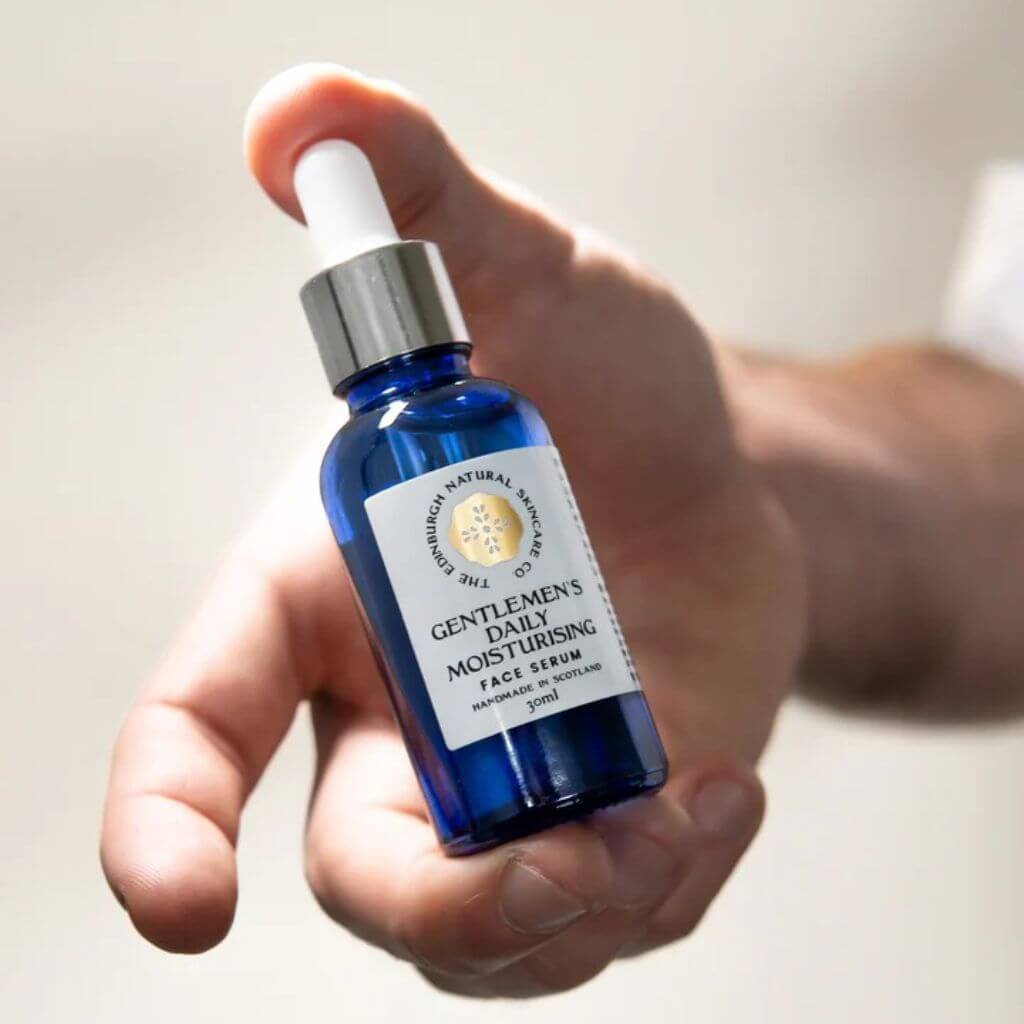 Edinburgh Skincare Gentlemen's Daily Moisturising Face Serum
Sale price
£15.99
Regular price
£0.00
Tax included.
Suitable for all skin types, including Sensitive Skin 
The Edinburgh Natural Skincare Company Gentlemen's Daily Moisturising Face Serum is a lightweight, non-greasy serum that is perfect for men with all skin types. It is formulated with a blend of natural ingredients, including aloe vera, jojoba oil, and Vitamin E, to hydrate and nourish the skin while also helping to protect it from damage caused by the sun, pollution, and stress.
This serum is also free of parabens, petrochemicals, mineral oils, and silicones, making it a safe and gentle choice for even the most sensitive skin. It is also vegan and cruelty-free, so you can feel good about using it.
With regular use, the Edinburgh Natural Skincare Company Gentlemen's Daily Moisturising Face Serum can help to improve the overall appearance of your skin, reducing the appearance of fine lines and wrinkles and giving you a healthy, radiant glow.
Size: 30ml
Key benefits:
Lightweight and non-greasy.

Hydrates and nourishes all skin types.

Protects skin from sun, pollution, and stress.

Free of parabens, petrochemicals, mineral oils, and silicones.

Vegan & cruelty-free.

Handmade in Scotland.
Key Ingredients
Borage Oil, used in the middle ages to "Chase away Sadness", contains high levels of gamma-linolenic acid, which helps with the restoration of dry and damaged skin to produce a smooth complexion. Naturally restore moisture levels – particularly helpful for dry, sensitive and eczema-prone skin.
Sweet Almond Oil contains Vitamin E, which keeps skin cells healthy and helps protect your skin from UV radiation damage, leaving skin looking smooth, soft, and free of fine lines. Fatty acids in almond oil help retain moisture in the skin and heal chapped or irritated surfaces.
Jojoba Oil is derived from the seeds of the jojoba plant (Simmondsia chinensis) and has natural moisturising properties. It is a fantastic multi-purpose moisturising oil, no matter what skin type you have. Jojoba oil can also be used to improve the condition of your facial hair.
Rosewood for its tissue-regenerating properties that help prevent wrinkles and premature ageing.
Rosemary helps protect skin cells from the damage caused by the sun and free radicals and has natural antiseptic properties, making it a superior cleanser for skin.
French Provencal Lavender for its potent anti-inflammatory, antibacterial properties and is ultra-soothing for the skin.
Frankincense has anti-inflammatory effects, promoting smooth skin and is an effective natural anti-acne and anti-wrinkle remedy. It treats dry skin and reduces the appearance of wrinkles and age spots, scars, and stretch marks.
Basil oil is a natural anti-inflammatory and has a soothing and relaxing effect. It also contains Vitamin C, which boosts skin cell metabolism and aids skin renewal, self-exfoliation, collagen production and UV damage repair.
Jasmine oil helps promote beautiful, healthy skin thanks to high concentrations of antioxidants and anti-inflammatory elements.
Ingredients
Prunus dulcis (Sweet almond oil), Simmondsia chinesis (Jojoba oil), Borago officinalis (Borage oil), Aniba rosaeodora (Rosewood oil), Rosemarinus officinalis (Rosemary oil), Citrus nobilus (Lemon oil), Lavendula augustifolia (Lavender oil), Botswellia carteri (Frankincense oil), Perlargonium graveolens (Geranium oil), Ocimum basillicum (Basil oil), Jasminum officinale (Jasmine oil), Benxois styrax, Benzyl benzoate, Benzyl cinnamate, Eugenol*, Farnesol*, Geraniol*, Limonene*, Linaool*. *Components of Essential Oils.
How to Use
An impeccable blend of exotic oils to be used as a daily moisturising facial serum to maintain healthy skin.  
Apply a few drops of the serum into the hands or directly onto the face, then rub in gently, massaging in circular motions.
Use daily for best results.
Packaging 
Housed in a glass bottle with a reusable plastic lid and glass pipette.