Skip to product information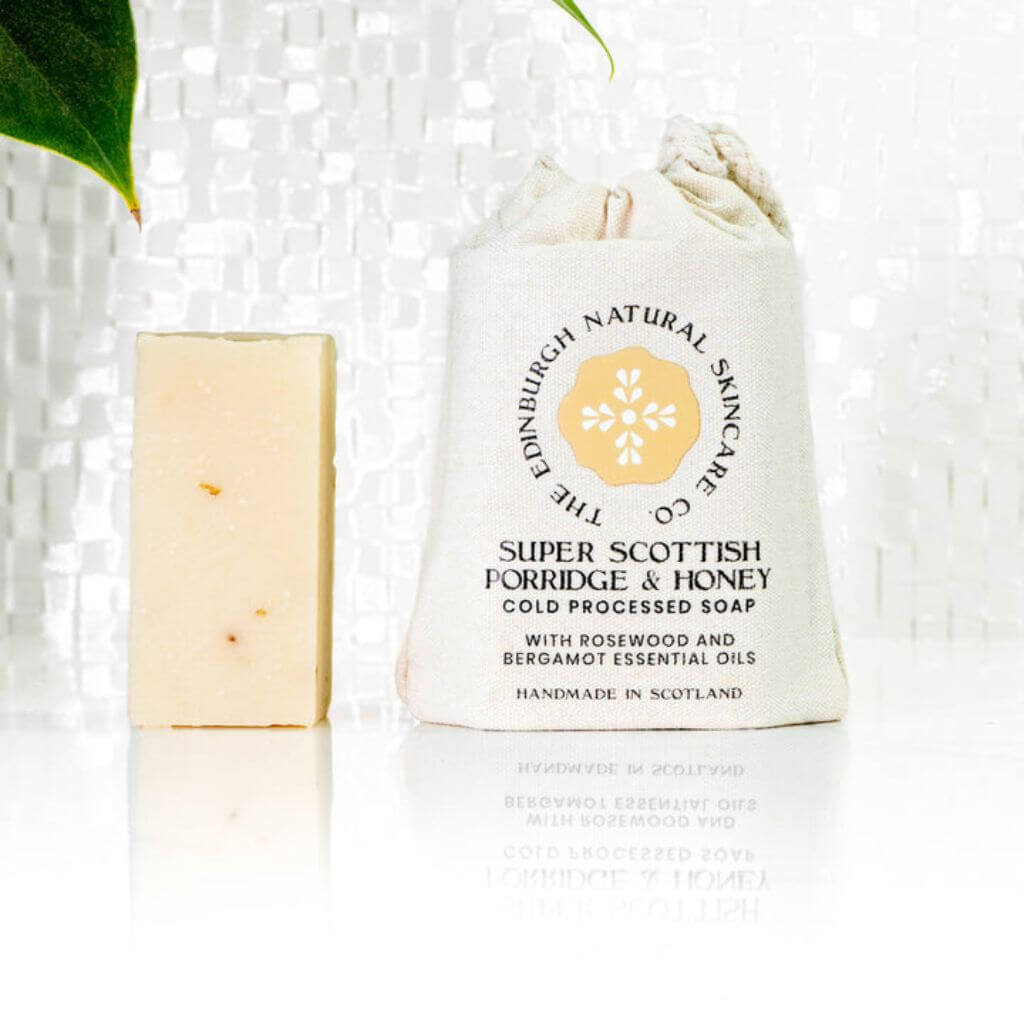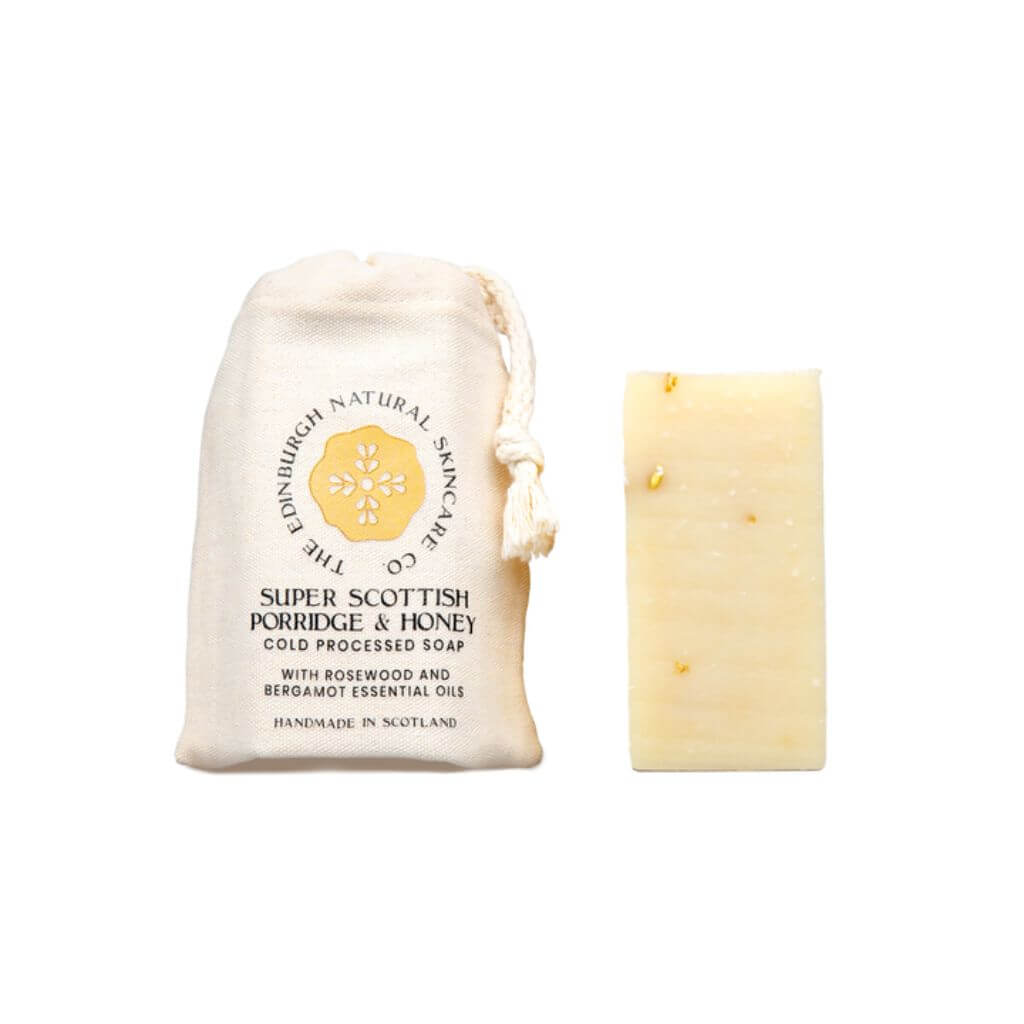 Edinburgh Skincare Super Scottish Porridge and Honey Cold Processed Soap
Sale price
£7.99
Regular price
Tax included.
his cheekily named soap is no ordinary bathtime partner! 
Introducing the Super Scottish Porridge and Honey Cold Processed Soap from Edinburgh Natural Skincare Company, cleverly blended by the artisans to combine cold pressed extra virgin Olive Oil, Coconut Oil, eco-sustainable Palm Oil, and virgin organic unrefined Shea Butter to protect, soothe and strengthen your hands. It also combines Honey, Rosewood, Bergamot Oil, and the best Scottish exfoliating Porridge Oats from the Scottish Borders to help unclog pores, renew and rejuvenate skin cells and delay premature ageing in the skin.
Edinburgh Natural Skincare Company Soap is a cold processed soap, which means each product is lovingly handcrafted to perfection in their studio laboratory with great attention given to the detail of infusion, curing and quality over four weeks. It is this traditional soap master's slow-curing method that ensures your soap will last longer than any other everyday alternative without losing its structural integrity, fragrance, or efficacy. This means that with every bar of Edinburgh Natural Skincare Company Cold Processed Soap, you get only the finest luxurious experience; from the first time you reveal it from its eco-friendly canvas bag to the last time you use it months and months later.
Size: 85g 
Benefits
Artisanal craft for long-lasting quality guaranteed.

100% natural, sustainably sourced ingredients.

Contains no artificial colouring, preservatives, or fragrance oils.

Handmade in the Garden of Scotland.

Cruelty-Free.

Eco-friendly canvas bag that's 100% Plastic-Free.
Key Ingredients
Cold-pressed Extra Virgin Olive Oil is additive free and helps moisturise your skin.
Coconut Oil seeps deep into the skin pores for moisturising penetration. The lauric acid in coconut oil has beneficial anti-bacterial properties to help improve the healthy glow of naturally beautiful skin.
Certified eco-sustainable Palm Oil for a natural source of vitamins A, C, and E as well as beta keratin which is a powerful antioxidant that kills off free radicals that can lead to premature ageing by destroying skin cells.
Virgin organic unrefined Shea Butter for its ability to provide luxurious nourishment and deep moisturising as it contains high concentrations of natural vitamins and fatty acids beneficial to rejuvenating tired-looking skin.
Honey for its natural anti-bacterial and antioxidant properties. It moisturises and soothes and is excellent for slowing down ageing.
Porridge Oats from Kelso in the Scottish Borders are packed full of antioxidants and help to undo the damage done to your skin by pollution and chemicals.
Rosewood for its tissue-regenerating properties that help prevent wrinkles and premature ageing.
Bergamot oil is excellent for oily skin and helps unclog pores.
Ingredients

Coconut Oil. (Cocos nucifera), Olive Oil. (Olea europaea), Identity Preserved Certified Eco-Sustainable Palm Oil. (Elaeis guineensis), Virgin Organic Unrefined Shea Butter. (Butyrospermum parkii), Honey. (Mel), Scottish Porridge Oats. (Avena sativa), Rosewood Essential Oil. (Aniba rosaeodora), Bergamot Essential Oil. (Citrus bergamia), * Geraniol, Limonene, Linalool  
*Components of essential oils
How to Use
Remove the Super Scottish Porridge and Honey Cold Processed Soap from its canvas bag and, under warm water, build up a luxurious creamy lather. 

Apply with gentle, rhythmic stroking on your body, paying tender attention to areas that have been exposed to abrasion and garden grazes – for a deeply sensual and softly cleansing effect leaving you feeling renewed, moisturised and soothed all over.