Skip to product information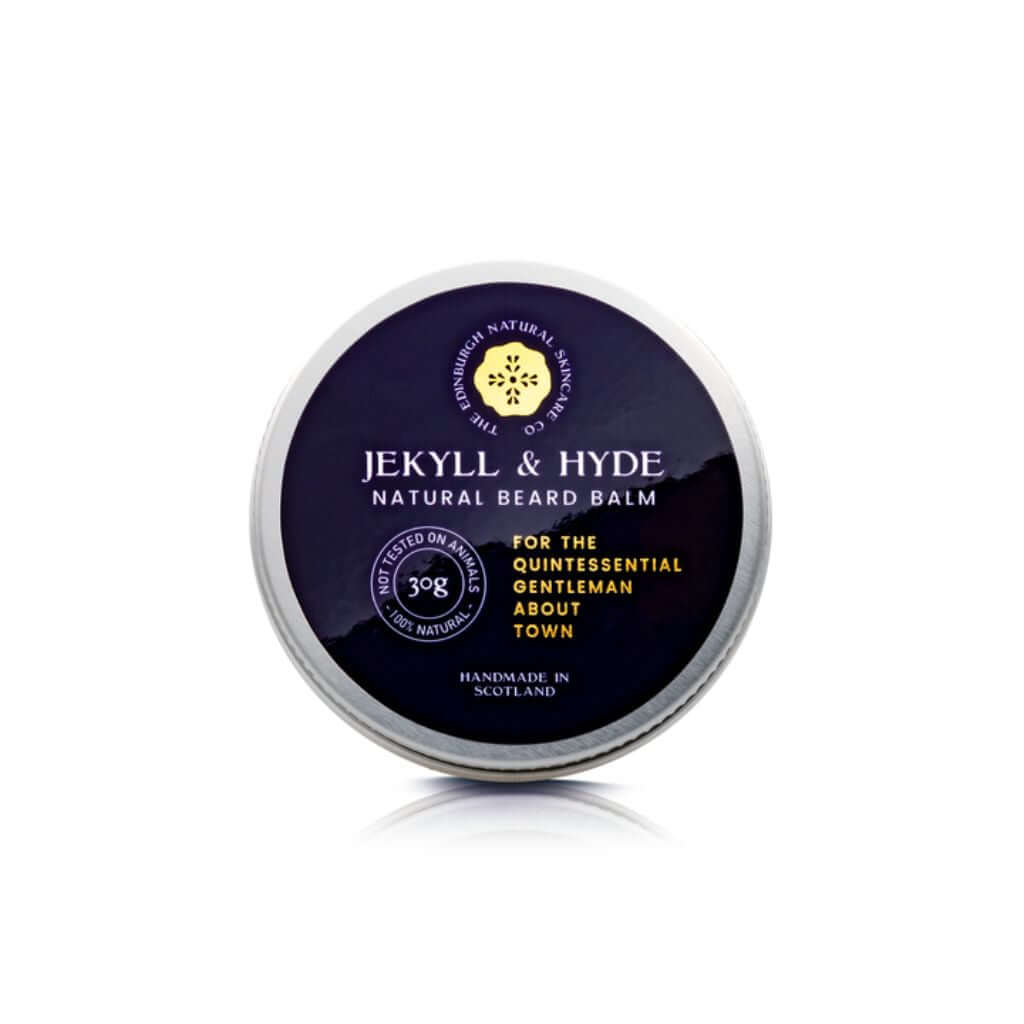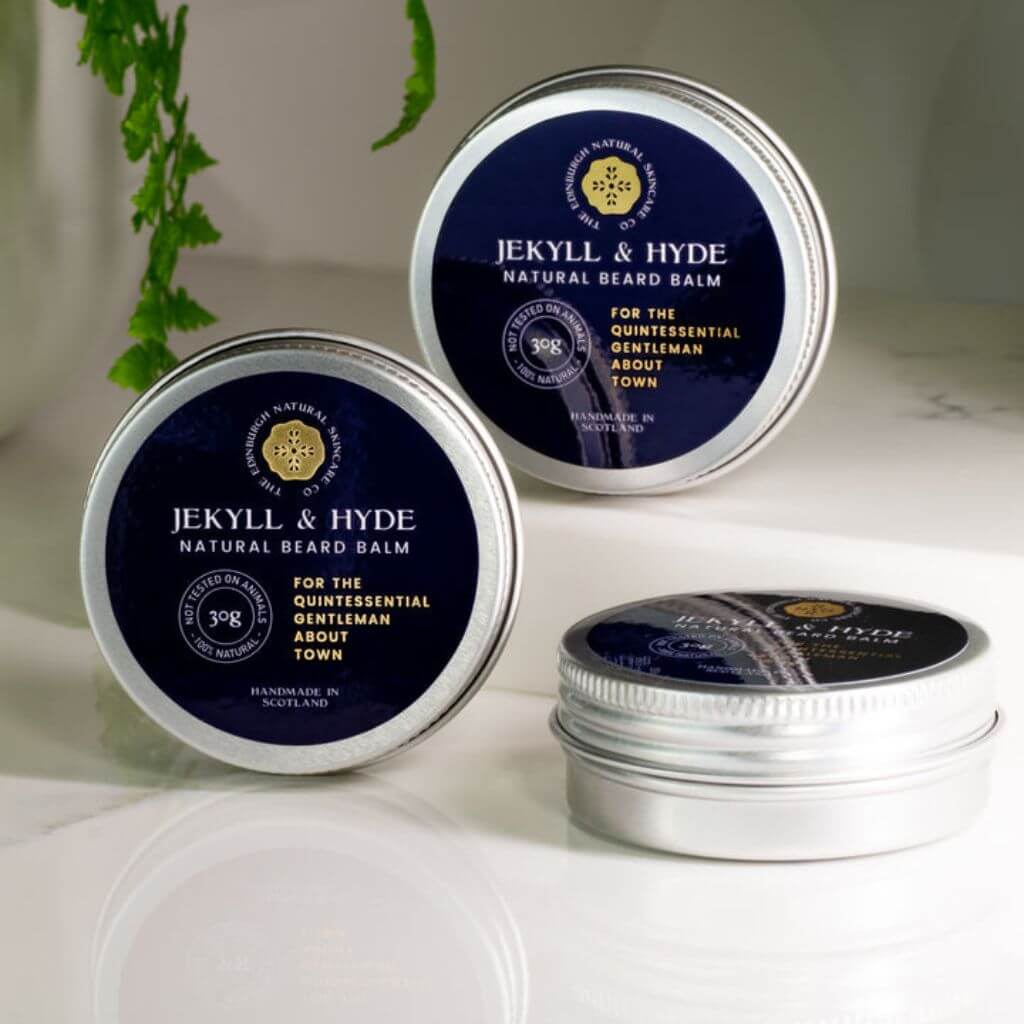 Edinburgh Skincare Jekyll and Hyde Natural Beard Balm for Gentlemen
Sale price
£10.99
Regular price
£0.00
Tax included.
Introducing Jekyll & Hyde Natural Beard Balm from The Edinburgh Natural Skincare Co. with unrefined organic Shea Butter for extra softening and deep moisturising, Coconut Oil for conditioning and boosting growth, Basil Oil for soothing skin, and Rosewood Essential Oil for a woody, herby and subtle hint of sweetness. Now with a luxurious touch of protectant Beeswax for sealing in the moisture to hair and skin, to give you that strokable charm on every touch.
When your beard follicles become too coarse or brittle, the tips of the follicles can fray, causing a split end. The sebum oil causes this lack of proper nourishment in each hair follicle, not reaching the tips of the hair and making your beard dry out. Remedy your problem with this high-quality beard balm – moisturise, condition, soften and help style your beard without leaving surplus residue or a greasy feeling.
Handcrafted in Edinburgh, Scotland, this Natural Beard Balm is in a Reusable Tin, perfect for fitting in your pocket and using on the go. The Edinburgh Natural Skincare Co. prides itself on using 100% natural ingredients and the purest essential oils that genuinely benefit the skin.
Size: 30g
Benefits
Helps control scraggly beard hair and keep it shiny and smooth.

Deep hydration and protection from breakages.

100% natural ingredients.

Contains no artificial colouring, preservatives, or fragrance oils.

Handmade in Edinburgh, Scotland.

Contained in a plastic-free, recyclable Aluminium tin.
Ingredients
INCI List:
Butyrospermum parkii, Cocos nucifera, Elaeis guineensis, cera alba, Boraho officinalis, aniba roseadora, rosemarinus officinalis, citrus nobilius, Lavandula augustifolia, Boswellia carterii, pelargonium graveolens, Ocimum basiillicum, Jasminum officinale, Benzoin styrax, Benzyl Cinnamate*, Benzyl Benzoate*, Eugenol*, Farnesol*, Geranoil*, Limonene*, linalool*.
(*components of essential oils)
Key Ingredients
Virgin organic unrefined Shea Butter for its ability to provide luxurious nourishment and deep moisturising as it contains high concentrations of natural vitamins and fatty acids beneficial to rejuvenating tired-looking skin.
Coconut Oil seeps deep into the skin pores for moisturising penetration. The lauric acid in coconut oil has beneficial antibacterial properties to help improve the healthy glow of naturally beautiful skin.
Beeswax for a protective barrier it provides your skin from harmful effects of the environment. Beeswax also helps reduce dryness by locking moisture into the skin and hair.
Certified eco-sustainable Palm Oil for a natural source of vitamins A, C, and E, as well as beta keratin, a powerful antioxidant that kills off free radicals that can lead to premature ageing by destroying skin cells.
Borage Oil, used in the middle ages to chase away sadness, contains high levels of gamma-linolenic acid, which helps restore dry and damaged skin to produce smooth, naturally restored moisture levels – beneficial for dry, sensitive and eczema-prone skin.
Rosewood for its tissue-regenerating properties that help prevent wrinkles and premature ageing.
Rosemary helps protect skin cells from the damage caused by the sun and free radicals and has natural antiseptic properties, making it a superior cleanser for skin.
French Provencal Lavender for its potent anti-inflammatory and antibacterial properties and is ultra-soothing for the skin.
Basil oil as it is a natural anti-inflammatory and has a soothing and relaxing effect. It also contains Vitamin C, which boosts skin cell metabolism aiding skin renewal and self-exfoliation, collagen production and UV damage repair.
Jasmine helps promote beautiful, healthy skin thanks to high concentrations of antioxidants and anti-inflammatory elements.
Red Mandarin as it helps brighten the skin, alleviate insomnia and stress, reduce oily skin and minimise wrinkles.
Frankincense has anti-inflammatory effects that promote smooth skin and is an effective natural anti-acne and anti-wrinkle remedy. It treats dry skin and reduces the appearance of wrinkles, age spots and scars.
How to Use
For the best results, apply Jekyll & Hyde Natural Beard Balm when your beard hairs are dry. Scrape out a thumbnail-sized amount of balm and rub it between your palms.

Run your fingers through your facial hair, starting from the neck and working up, making sure to rub balm into the skin where your beard grows. Try using your fingers or a comb to style and sculpt into your desired look.